Key global industry figures visit department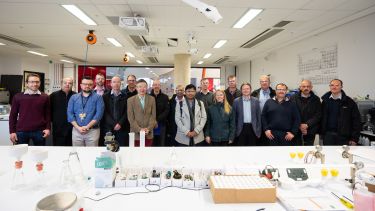 DiPP is an integral part of the department's facilities. Future engineers from students to current industry employees can test and explore integrated processes with state of the art simulations and world class control systems in a safe, production orientated environment.
The group met to discuss how best to work with industrial partners and further promote engagement opportunities between the facility, department and major global companies.  Present at the meeting were key members from Nestle, Pfizer, AstraZeneca, GSK, Siemens GEA, Alexanderwerk, Nitechsolutions, Psenterprise, Perceptive and CPI and CMAC.
The day's approach was focusing on getting the most detailed advice from industrial experts possible.  After a short session of updates from members of staff in the department, the group had an exclusive tour of DiPP and were given the opportunity to watch the powder processing tableting line in action and the bio-reactors. Delegates then visited the Analytics Laboratory where they were shown the continuous crystallizer, a key piece of equipment - crystallization is an important unit operation for purification of products. They also saw the digital twin for DiPP and the control room based in the facility.  
The group then reconvened to a session chaired by Project Lead Professor Agba Salman and Head of Department Professor Jim Litster.  The group then compared practices and thinking across sectors and drew out potential conclusions. 
The DiPP Steering Group is an ideal forum to discuss wider academic, scientific and industrial needs. Working together across a wide range of industrial sectors will help us to define what is important. The department can then identify and support the potential technological advancement of the Plant and beyond.  The input from the board is incredibly valuable and allows the department to react to the future demands of our teaching and research in a constructive and proactive way."

Professor Agba Salman 

Department of Chemical and Biological Engineering