Dr Esther Karunakaran
Department of Chemical and Biological Engineering
Lecturer
Bioengineering Year 1-2 Tutor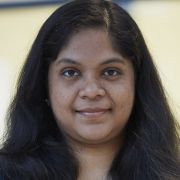 e.karunakaran@sheffield.ac.uk
+44 114 222 7166
Room G16, Sir Robert Hadfield Building
Full contact details
Dr Esther Karunakaran
Department of Chemical and Biological Engineering
Room G16
Sir Robert Hadfield Building
Mappin Street
Sheffield
S1 3JD

Profile

I obtained a BSc (Hons) in Microbiology with distinction from Bharathiyar University in India and then went on to get an MSc in Molecular Genetics from the University of Leicester. I moved to the University of Sheffield and obtained a PhD in Chemical and Biological Engineering for investigating the influence of autoinducer-2 based quorum sensing on biofilm formation in Bacillus cereus.

I continued as a postdoctoral researcher in the Department of Chemical and Biological Engineering working on two consecutive projects, 1) Bio-flocculation in cyanobacteria and the impact of sodium chloride stress, 2) Engineering biofilms to enhance the hydraulic flow characteristics in pipes.

In May 2017, I took up the position of Lecturer in the Department of Chemical and Biological Engineering. My research interests revolve around the investigation and application of biofilms in bio-processing.

I am the co-director of the Innovate UK funded research facility, SCARAB: Sheffield Collaboratorium for Antimicrobial Resistance and Biofilms.
Research interests

Biofilms  
Antimicrobial resistance
Wastewater microbiology
Synthetic biology in cyanobacteria
Publications