Dr Linda Kotta
Department of Chemical and Biological Engineering
Senior University Teacher
Foundation Year Tutor and Year Industry Lead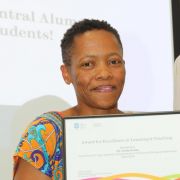 l.kotta@sheffield.ac.uk
+44 114 222 7649
Room F56, Sir Robert Hadfield Building
Full contact details
Dr Linda Kotta
Department of Chemical and Biological Engineering
Room F56
Sir Robert Hadfield Building
Mappin Street
Sheffield
S1 3JD

Profile

Dr Kotta's formal qualifications include a PhD (2011) from The University of Cape Town, South Africa. The PhD, entitled Structural Conditioning and Mediation by Student Agency: A Case Study of Success in Chemical Engineering Design, investigated the experiences of a diverse cohort of final year engineering students in a South African university to understand the differential performances observed. The study employed a realist philosophy which provided rich explanations of observed phenomena.

The study concluded that macro institutional and societal effects are at work in micro settings by providing contexts and conditions for action.These influences are not always deterministic, merely conditioning. The study also showed that at times institutional identities stand in the way of educational progress and that until the often contradictory macro and micro agendas are reconciled, there will be no progress, and the student will always pay the price.

Dr Kotta also holds a Bachelor of Chemical Engineering (2001) from The University of Natal (South Africa) as well as Master of Education (2005) from The University of Witwatersrand (South Africa).

After her Bachelor's degree Dr Kotta spent a number of years as a metallurgical trainee for Anglogold in the East Rand in South Africa.

Dr Kotta has an interest in the student experience. In particular she is interested in engineering curricula that respond to diverse student cohorts, that promote collegiality among colleagues and that equip students to be future leaders.
Research interests

She is particularly interested in the area of engineering design as the integrating principle in engineering education. This includes its positioning in the curriculum, its delivery as a pedagogic model and the associated evaluative criteria. 
Publications

Journal articles

Conference proceedings papers