Dr Raman Vaidyanathan
Department of Chemical and Biological Engineering
Senior Lecturer in Chemical Engineering
Course Director MSc (Eng) Biological and Bioprocess Engineering
Course Director MSc (Eng) Biochemical Engineering with Industrial Management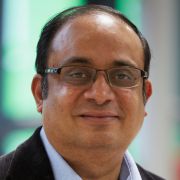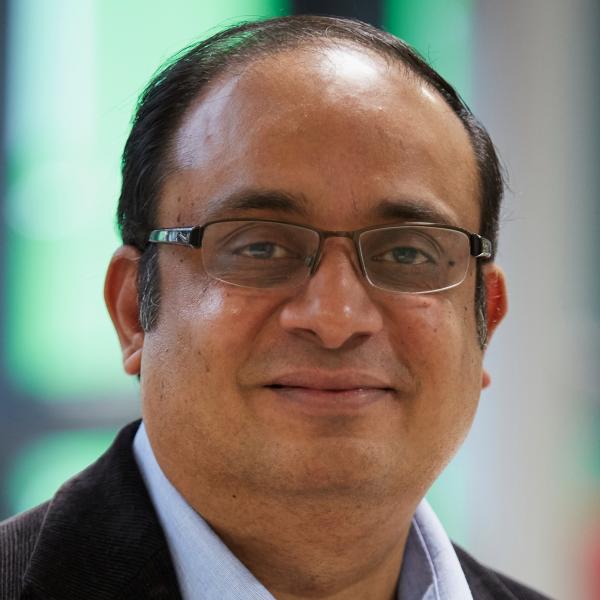 s.vaidyanathan@sheffield.ac.uk
+44 114 222 7526
Room G60, Sir Robert Hadfield Building
Full contact details
Dr Raman Vaidyanathan
Department of Chemical and Biological Engineering
Room G60
Sir Robert Hadfield Building
Mappin Street
Sheffield
S1 3JD

Profile

I joined the Department as a lecturer in 2007. I'm a chemical graduate with a Masters degree in Biotechnology (both from India) and completed my PhD in 2001 from the University of Strathclyde in Glasgow, where I investigated the application of near infrared spectroscopy to monitor industrially relevant bioprocesses involving filamentous microorganisms. This was work done in collaboration with Eli Lilly.

I have over five years of pre-doctoral industrial experience applying biotechnological solutions to environmental engineering problems.

Before joining Sheffield I was a research associate at the University of Manchester, where I investigated a) the application of secondary ion mass spectrometry with buckminsterfullerene (C60) cluster ions as primary ion sources to characterize biological surfaces, and b) laser desorption ionization mass spectrometry for metabolomic applications.

I also spent my post-doctoral years investigating the application of soft ionization mass spectrometry to characterize biological systems, at Aberystwyth in Wales.
Research interests

Algae Biotechnology
Systems and synthetic biology
Bioprocess Engineering
Bioenergy
Bioinformatics and use of machine learning
Metabolomics and Proteomics
Mass spectrometric imaging
Publications

Books

Journal articles

Chapters

Conference proceedings papers
Research group

Our current research focus is in developing and establishing microalgae-based value chains and processes that can be carbon negative and offer environmentally sustainable solutions with wider impact in the chemicals, materials, energy, food and health sectors. We are working with a diverse group of microalgae, including Chalmydomonas sp., Chlorella sp., Dunaliella salina, Scenedesmus sp., Phaeodactylum tricornutum, Nannochloropsis oceanica, Porphyridium purpureum, etc. The investigations include molecular level understanding and identification of relevant metabolic pathways, metabolic modelling, systems level characterisations, chemical and biochemical process engineering, techno-economic assessments, resource utilisation towards a circular bio-economy. We have been funded by UKRI BBSRC and EPSRC o develop an understanding of lipid accumulation in microalgae towards sustainable biofuels production, and by EU H2020, through an MSCFA to study nutrient uptake by microalgae.

We have identified key delineating features suitable for lipid accumulation in marine microalgae that would help in selecting appropriate strains and process conditions suitable for oil production in microalgae [1]. We have studied nutrient uptake in the context of lipid accumulation in P. tricornutum and N. oceanica [2], as well as in N. salina and D. salina [3] and have reported on the differences in the capacity between species to respond to the supply of nitrogen and exposure to high intensity light towards increased lipid accumulation. We have reported on cryopreservation of Chlorella to preserve its lipid accumulating capacity [4]. We are working towards a better understanding of carbon uptake by microalgae [5] to enable appropriate interventions for carbon capture and utilisation. Methods to characterise dissolved inorganic carbon [6], intracellular biochemical compositions [7,8], proteomic and metabolomic data acquisition in microalgae [9,10,11,12] have been established. We are developing strategies for microalgae based microbial co-culture systems for better bioproduct formations [13, 14]. Accumulation of the health-promoting polyunsaturated fatty acids, such as EPA, in the diatom, P. tricornutum have been characterised in pilot-scale outdoor PBRs, as a part of BBSRC funded research (PHYCBIV-28), as well as cell lysis for extraction of products from microalgae (PHYCBIV-13). The development of a biorefinery concept with microalgal cultivations to sustainably sequester CO 2 and produce economically viable processes is being explored with the diatom P. tricornutum [15, 16]. These include downstream processing considerations [17, 18].

We wish to build on these findings and develop relevant microalgae-based value chains and materials to enable sustainable interventions in diverse sectors, including renewable energy generation [19, 20], agriculture [21], aquaculture practice, food production, nutrition, health, bulk and fine chemical manufacture. These interventions are aimed at developing environmentally inclusive, economically impacting routes to future food security, chemical manufacturing, health and energy generation. We have wider expertise in microbial characterisations, omic analyses, mass spectrometric imaging, bioinformatics, bioprocess monitoring and microbial process engineering.
Teaching activities

CPE403/6030 - Environment: Gaseous Emissions
CPE401 - Research Project (MEng)
CPE6009 – Bio-energy
CPE6016 – Bioanalytical Techniques (MSc BBE)