Professor Siddharth V Patwardhan
BE, MS, PhD, CChem, FRSC
Department of Chemical and Biological Engineering
Professor of Sustainable Chemical and Materials Engineering
Head of the Green Nanomaterials Research Group
EPSRC Fellow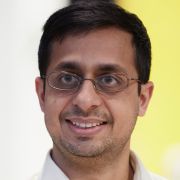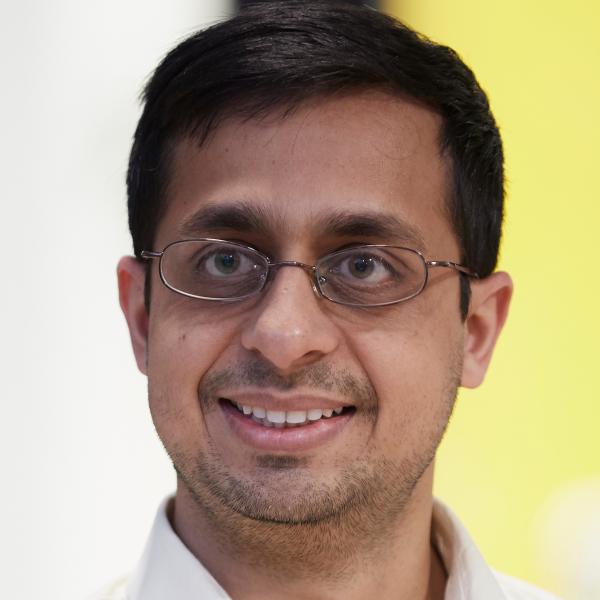 s.patwardhan@sheffield.ac.uk
+44 114 222 7593
Room F51, Sir Robert Hadfield Building
Full contact details
Professor Siddharth V Patwardhan
Department of Chemical and Biological Engineering
Room F51
Sir Robert Hadfield Building
Mappin Street
Sheffield
S1 3JD

Profile

I am educated in chemical engineering (B.E., Pune, 2000) and materials science (MS and PhD, Cincinnati, 2003) followed by post-doctoral experience in inorganic chemistry (Delaware and Nottingham, 2003-2008). After taking up a short-term lectureship in Chemistry (Nottingham Trent University), I became a Lecturer in Chemical Engineering (Strathclyde, 2010-15). I then moved to Sheffield to take up a position of Senior Lecturer (2016-17), and then became a Professor of Sustainable Chemical and Materials Engineering (2018). At Sheffield, I am a member of the department's leadership team.

I am currently EPSRC Fellow in Manufacturing and a Fellow of the Royal Society of Chemistry. I lead the Green Nanomaterials Research Group with a vision to develop sustainable routes to functional nanomaterials. The group focusses on the discovery of bioinspired nanomaterials, assessing their scalability and developing manufacturing technologies for energy, environmental, biomedical and engineering applications. This research has produced a book, 70+ publications (h index of 34, over 3800 total citations), 50+ presentations at conferences and a number of inventions.

I am a committee member of the RSC's Process Chemistry & Technology Special Interest Group and in the past has played a key role in a number of national and international networks as well as conference organisation, e.g. EPSRC's Early Career Forum for Manufacturing Research, RSC's Materials Chemistry Division, EPSRC's Directed Assembly Grand Challenge Network and ACS Green Chemistry and Engineering conference.

Along with various funding awards, I am proud to receive the Dedicated Outstanding Mentor award four-times in recognition of mentoring skills that helped mentees "make a significant transition in knowledge, work, or thinking". I have also received the Teaching Excellence Award twice and SuperVisionary awards for the recognition for all-round supervision.
Research interests

Green Nanomaterials Research Group

Research in the group undertakes the synthesis of bespoke nanomaterials using biologically inspired green routes.

In our new book, the aim is to address the highly sought aspect of how to translate the understanding of biominerals into new green manufacturing methods. We cover aspects from the discovery of new green synthesis methods all the way to considering their commercial manufacturing routes.


The group aims to demonstrate potential of green methods for nanomaterials synthesis by realisation of their real-life applications.  Current projects are focussed on developing application of green nanomaterials in four distinct sectors:   

A significant research focus is on developing the science underpinning scale-up of green nanomaterials, thus enabling their large-scale manufacturing.

Focus is on increasing technology readiness level (TRL) for new developments and delivering technologies that are ready for commercialisation.

New technologies invented
Publications

Books

Journal articles

Chapters

Conference proceedings papers

Other
Research group

See full details of supervisions here.

PhD Supervision

Balashanmugam, Abitha       
Entwistle, Jake           
Keegan, Amber
Mulay, Manasi           
Norfolk, Laura
Routoula, Eleni
Yan, Maximilian

PDRA and other Supervision

Dr. Yahaya Baba
Dr. Justin Driver
Dr. Charles Oseghale
Dr. Robert Pilling
Alex Riley
Julie Swales
Grants

Current grants:

Design and green manufacturing of functional nanomaterials, EPSRC Fellowship (EP/R025983/1), PI.
Bioinspired green manufacturing of next generation energy storage materials, EPSRC (EP/R027471/1), PI.
Manufacturing Functional Nanomaterials from Waste, funded by Industry and Scottish Enterprise, PI.
Enabling manufacturing of Functional Nanomaterials using SynBio, EPSRC (EP/ P00689/1), PI.

Recently concluded grants (selected):

Commercialisation of bioinspired technology, funded by Intellectual Property Development and Commercialisation Fund, PI.
A Green Synthesis as a New Route to Silica for Tyres, funded by Industry and Impact Acceleration Award, PI.
Silica Synthesis - Proof of market, Intellectual Property Development and Commercialisation Fund, PI.
Manufacturing Green Nanoparticles for Efficient Cell Manufacture, EPSRC (EP/L017059/1), PI.
Chemical, economic, engineering and market analyses for waste composites, Scottish Funding Council, PI.
Feasibility of a wetting layer absorption carbon capture process based on chemical solvents, EPSRC (EP/J019704/1&2), Co-I.
Teaching interests

See further details here.
Teaching activities

Teaching Activities

Systems for Sustainability (a small section, 2019)
Introduction to Fuels and Energy (a small section, 2019-19)
Oil and Gas Utilisation (module leader, 2016-19)
Materials, Processing & Applications (module leader, 2011-15)
Environmental Engineering (module leader, 2010-14)
Petrochemical Engineering (module leader, 2012-15)
Chemical Engineering Design Projects (2010-2019)
Personal tutorials
MEng research projects (2010-present)
Consultancy

My group provides consultancy and R&D services to a wide variety of sectors and markets including energy, waste-derived products, petrochemicals, pharmaceuticals, natural products. Specific examples include:

Design, discovery and characterisation of nanostructured and porous materials
Exploring scalability and optimisation of production of particles and particulate formulations
Valorisation of waste into valuable products.
Novel solutions for air and water decontamination
Techno-economic and market evaluation of a variety of processes and materials.

We also offer specialised training on

science communication,
Structuring independent academic career
Techno-economic analysis,
Chemical engineering for non-engineers,