Study with us and you'll experience innovative teaching and state-of-the-art facilities. We'll equip you with the skills you need to work in the sector of your choice.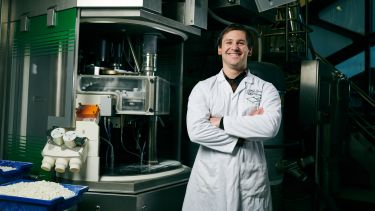 Our courses are flexible for you. On our MEng programmes you can choose a stream to specialise in after the first two years of study with us, and your specialism will be reflected in your degree title. Alternatively you can specialise by choosing from a range of elective modules across the breadth of chemical engineering.
---
Biological Engineering
You'll apply principles of chemical engineering at the molecular level to the development of novel ways to produce energy, food and medicines.  Biological engineers develop understanding of complex biological systems and design and synthesise new bio-engineered cells and molecules.
Energy
You can tailor the course to your interests, be they in renewable and alternative energy, nuclear technology or conventional energy - including the environmental and sustainable issues associated with the burning of fossil fuels, In all areas you'll develop an understanding of how to develop efficient and clean energy systems.
Pharmaceutical Engineering
You'll cover the fundamentals of chemical engineering with a focus on pharmaceutical and medicine development/manufacture.  You'll study aspects of product design and scale-up as well as the pharmaceutical industry's regulatory and compliance standards.
---
On our three-year BEng courses you'll learn about the design of processes and products that produce, transform or transport materials and energy.
We'll develop your technical, research and problem-solving skills to give you an excellent start for a career in the sector of your choice.
Our students go on to work in the food, fuels, medicines, plastics, energy and high-technology industries.
2023-24 entry
---
Our four-year MEng courses takes your study to a more advanced level.
Between years three and four you'll go on an engineering placement in industry. You'll grow your network, put your academic studies into context and get to grips with working practice in industry, all improving your skills and making you more employable.
You'll be supported in finding your placement by the departmental careers team and the faculty employability team.
2023-24 entry
---
We understand that, as you become more familiar with the material covered within your degree programme, your special interests may change. That's why we've designed our programmes to be flexible, allowing you to transfer between the various options.
---
All of our courses are accredited by the Institution of Chemical Engineers.
Explore the University
Discover why Sheffield is the right choice for you at one of our open days or events.