Chemistry student recognised at Reckitt Sustainability Challenge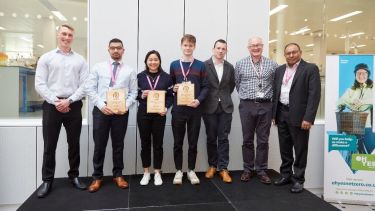 Chemistry undergraduate student, Adib Kapdi awarded third place in a new and exciting pilot competition launched by multinational consumer goods company Reckitt. The challenge was to come up with a more sustainable version of a Dettol spray bottle, and develop their own proposals to achieve this. 
In order to foster an atmosphere of innovation and discovery the competition concluded with a visit to the Reckitt Science and Innovation Centre in Hull, where students attended tours of labs and facilities, as well as presentations from staff working in R&D and sustainability. The students also showcased their work to senior leaders from Reckitt and university staff at a poster presentation. 
The final part of the competition was the prize-giving ceremony which recognised the outstanding contributions of all participants. Adib said "Taking part in the Reckitt Sustainability Challenge has been a really rewarding experience, it has opened my eyes to how chemistry can be applied in material science and sustainability, particularly from a large-scale production viewpoint.  I also really enjoyed the visit to the Hull Science & Innovation centre, where I gained a broader insight into what Reckitt actually do and what a chemistry career might look like after education."