Dr Benjamin M. Partridge
Lecturer in Organic Chemistry and Level 2 Coordinator
Level 2 coordinator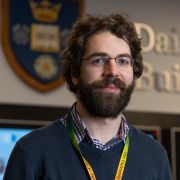 Profile

Dr Ben Partridge graduated with an MSci in Chemistry with Industrial Experience from the University of Bristol in 2007. He stayed at Bristol for his PhD, working with Prof. Varinder Aggarwal FRS, before moving to the University of California, Berkeley in 2011 for a post-doc with Prof. John Hartwig. From 2013 he worked with Prof. Hon Wai Lam at the Universities of Edinburgh and then Nottingham.

He was appointed as Lecturer of Organic Chemistry at the University of Sheffield in June 2016.
Qualifications
Research interests

Our research is focused on developing new methods for the synthesis of complex organic molecules. To achieve this, we use our two main interests: catalysis and organoboron chemistry.


Our boron reagent of choice is alkylboronic esters. These are air and moisture stable reagents, with a growing number of methods for their preparation. Unlike arylboronic acids, though, the range of catalytic transformations of alkylboronic esters is highly underdeveloped. Our aim is to develop a toolbox of catalytic methods to transform alkylboron building blocks into more complex molecules.

"For more information, see the Partridge Group homepage."
Publications
Teaching interests

Organic Chemistry
Teaching activities

Undergraduate and postgraduate taught modules

Alkene Chemistry (Level 2)
This course examines methods available for the synthesis of alkenes, and discusses the important reactions of versatile functional group.

Strategy in Synthesis (Level 3)
This course introduces the ideas of retrosynthetic analysis, providing a basis for the design of synthetic routes, and to reinforce key aspects of basic organic chemistry, especially drawing molecules, pKa values and mechanism.

Support Teaching:

Tutorials: Level 2 Organic Chemistry.
Skills for Success: Kitchen Project.
Level 3 Literature Review

Laboratory Teaching:

Level 3 Organic Laboratories
Level 4 Research Project