Dr Colin J. Crook
University Teacher and Departmental PGT Director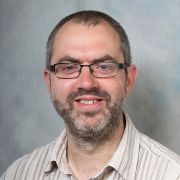 Profile

Dr. Crook obtained a BSc in Chemistry with Polymer Chemistry in 1995. This was followed by a MSc in polymer chemistry from Lancaster University and a PhD from Aston University in 2000. In 2000 he became a postdoctoral research associate at the University of Sheffield working, a post held until 2006. His research centred around polymer synthesis and responsive polymers, and he was involved in the exciting Wonderland project at the art-science interface.

 In 2007 he was appointed as a University Teacher in physical chemistry. He is fortunate to lecture in some of his favourite areas of chemistry, namely smart polymers and polymer characterisation, and runs the Level 2 physical chemistry laboratory and the MSc polymer laboratory. He is currently the Director of Studies for the MSc: Polymers for Advanced Technologies.
Publications

Journal articles

Conference proceedings papers
Teaching interests

Physical Chemistry Laboratory; Polymer Chemistry.
Teaching activities

Undergraduate and postgraduate taught modules

Level 2 Physical Chemistry Laboratories: In the second year, students use their observational, analytical and critical skills to probe some of the fundamental concepts of Physical Chemistry such as thermochemistry, kinetics and material properties. They also become practised in the art of data analysis and the communication of those results to others.
Smart Polymers and Polymeric Materials (Postgraduate Level)
This unit teaches students about the ways in which individual polymer chains and polymer-based materials can respond to a variety of external stimuli such as heat, light, sound, electric field, pH and ionic strength, and the uses which can be made of these effects in the design and applications of "smart" (both passive and active) materials and devices.

Support Teaching:

Tutorials: Level 2 Physical Chemistry.
Level 3 Literature Review

Laboratory Teaching:

Level 2 Organic Laboratories
Level 2 Physical Laboratories
Level 3 Inorganic Laboratories
Postgraduate Level Laboratories