Our research clusters span chemical biology, polymers, materials and nanoscience, molecular design and catalysis, and theory and light-matter interactions. They each offer a range of PhD opportunities.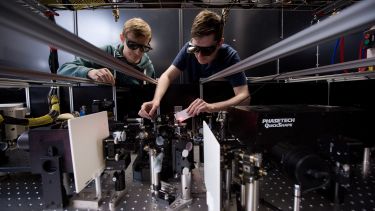 Off
Some of the projects below come with specific funding (for example, from a research council or Centre for Doctoral Training) to cover your tuition fees and living expenses.
If a project does not come with specific funding, you may be able to apply for a scholarship. Once you have found a project you want to apply for, find out how to apply.
If you have your own idea for a project, you can find a potential supervisor by visiting our research pages. Contact a member of academic staff to find out about PhD opportunities in their area.
---
Contact
If you would like any more information or have any questions, please contact our student recruitment and admissions team.
Telephone: +44 114 222 9500
Email: chem-pgadmissions@sheffield.ac.uk
By post
Department of Chemistry
The University of Sheffield
Dainton Building
Western Bank
Sheffield
S3 7HF United Kingdom
Find a PhD
Search for PhD opportunities at Sheffield and be part of our world-leading research.