Once you have identified a potential project and supervisor, complete the University of Sheffield's postgraduate online application form to apply for your PhD.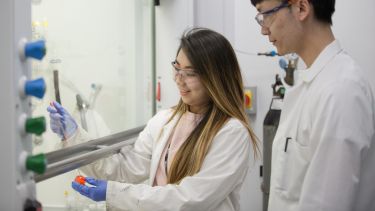 Apply online
To apply for a PhD place in the department you will need to complete an online application form. You should apply as early as possible.
The form is divided into two parts. Part one is for personal information and part two is where you should include your proposed department, research cluster and references. Postgraduate online application form
---
Entry requirements
Make sure you have read the following entry requirements before you complete the form. It is a good idea to contact the supervisor of any PhD opportunity you want to apply for, before you submit your application.
We usually ask for a first-class or upper second class (2:1) MChem or MSc degree, or equivalent experience, in chemistry, chemical physics, chemical engineering, materials, or a relevant biological science.
English language requirements
You can find out whether you need to have an English language qualification, and which other English language qualifications we accept, on the University's webpages for international students.
The English Language Teaching Centre offers English language courses for students who are preparing to study at the University of Sheffield.
English Language Teaching Centre
International students
International students will also need clearance through the Academic Technology Approval Scheme (ATAS) before you can start your PhD. You will be given more guidance on the ATAS process if you receive an offer of a place.
---
Completing your application
Our decision on whether to offer you a place will also be based on the research proposal or personal statement you submit in your application, your CV and academic references, and any interviews you complete. The following documents/ information must be provided as part of your application in order to be considered by our admissions team:
Evidence of your English language qualifications.
Details of your previous education and qualifications – transcripts and certificates must be provided as evidence of completed qualifications
You should also include a 500-word statement which answers the following:
Explain your motivation for studying for this PhD project with your proposed supervisor.
What is your experience of research to date and how is this relevant to the proposed PhD project?
In 100 words or less, please explain how you intend to fund your studies. For example, which specific scholarships will you apply for? Are you looking to self-fund? Are you applying for a postgraduate loan or government funding scheme?
Three slides that you have prepared – these may be used as visual aids at interview if you are shortlisted:
On two of the slides, describe a chemistry-related project, research example or achievement from your studies that you are proud of. On the third slide, describe an area of recent chemical research that you have found interesting.
Two academic references – provide contact details for your referees, as they will be contacted automatically for letters of support when you apply.
Please upload these files within the postgraduate online application form system. Failure to supply all of the above documents and information will result in delays processing your application.
If you have any questions about this process, please email the Faculty of Science Graduate School team at sciencegradschool@sheffield.ac.uk
---
What happens next?
Following submission of your application, our admissions team will review your eligibility and potential funding sources, and ensure that the supporting documentation we have requested has been provided.
Your application will then be reviewed by your proposed supervisors who will assess your suitability for postgraduate research and arrange a formal interview. Your interview may take place by video-conferencing, over Skype or face-to-face.
During the interview, you will have an opportunity to ask questions about your application and studying for a PhD at the University of Sheffield. We would recommend that you make a note of questions that you would like to ask.
Please ensure you have a webcam for online interviews, as the panel are required to check the visual identity of students as part of the interview process.
Find a PhD
Search for PhD opportunities at Sheffield and be part of our world-leading research.