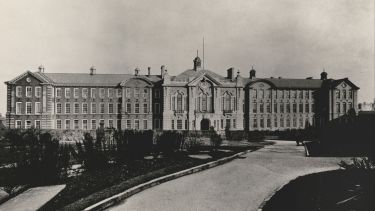 Off
The Department was founded in 1917 and is based in the Sir Frederick Mappin Building. We have a strong research history in fundamental areas such as structures and water. We continue to strive to be the best civil engineering department in the UK by developing and delivering our plans for excellent research and teaching.
Our history is a rich and varied one. We were created in one world war, survived a second and have seen thousands of students come through our doors in the last century. We have grown from a small department to a large community of over 40 academic staff, including 15 professors, over 500 undergraduates, around 100 postgraduate students, and thousands of alumni worldwide. We're one of the largest, most established and most active civil engineering departments in the UK.
We're one of the best in the UK for research excellence according to the last Research Excellence Framework (2021) and we're justifiably proud of our teaching and research, which goes beyond the traditional areas of the profession. We're well known for our work in structural fire engineering, earthquake engineering, blast engineering, flood prediction and prevention and leakage management. But civil and structural engineering is no longer just about the built environment above and below ground. We have a responsibility and passion to address emerging global engineering challenges, and our growing expertise in resilient infrastructure, sustainability and carbon-neutral construction, energy generation & storage, digital technologies, characterisation of new materials, and managing risk and hazards, means we're dedicated to making the world a better place and to producing engineers who will build a better future.
Our league table rankings
Top 50 in the world and 7th in the UK according to the QS World University rankings by subject (2022).
8th in the UK according to the Complete University Guide (2023).
10th in the UK according to the Times University League Table (2023).
A world top-100 university
We're a world top-100 university renowned for the excellence, impact and distinctiveness of our research-led learning and teaching.