Can we create cities that generate and store their own energy?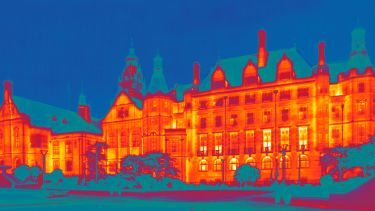 The Active Building Centre (ABC) is a new Research and Technology Organisation that aims to provide safer, healthier and more affordable buildings that use fewer resources to construct and operate, by designing them to generate and store their own energy.
As part of the £36m ABC project, researchers in the Department of Civil & Structural Engineering at the University have been awarded £1.38m to explore and determine the city-scale implications of buildings as active agents in power grids.
They will spend the next three years developing a high-resolution model of energy and resource stocks and flows across the city of Sheffield by creating a network of active sensors to gather data. They will then create a 3D 'digital twin' of the city in order to simulate where they could achieve carbon reduction targets.
Led by Prof. Martin Mayfield and Dr Danielle Densley-Tingley, ABC Sheffield will be using the Urban Flows Observatory and the UKCRIC imaging vehicle MARVel, to explore and understand the thermal characteristics of buildings in Sheffield and then map them on to the digital twin.
This sophisticated technological approach to studying the flows of energy and resources in cities will not only allow evidence-based decision making about the future of our urban environments, but it will be utilised to support the design and management of future civil engineering practices, that will be more sustainable and less harmful to our valuable resources.
Our league table rankings
Top 100 Civil & Structural Engineering department in the world and 9th in the UK according to the QS World University rankings by subject (2023).
8th in the UK according to the Complete University Guide (2023).
10th in the UK according to the Times University League Table (2023).