Sheffield Civil Engineering graduates chosen as ICE President's Future Leaders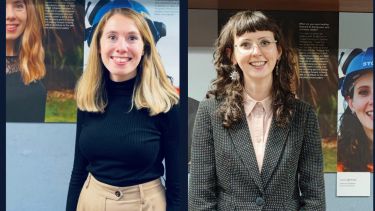 After a thorough shortlisting and video interview process, we are delighted that two of our Civil Engineering graduates, Lara Lightfoot and Rhona Kerr, have been chosen as 'Future Leaders'.  Selected by President of the ICE, Ed McCann, Lara and Rhona will be working alongside ICE staff members on a variety of projects during the year.
They were asked what they were most looking forward to during their year as a Future Leader:
Lara Lightfoot: "Getting a place on the Future Leader's scheme has given me an invaluable opportunity to gain new perspectives of the institution and industry, meet civil engineers in sectors and positions that I wouldn't interact with otherwise, and to see the inner workings of the ICE. Working alongside the other likeminded and motivated Future Leaders, I'm eager to develop our ideas on how to improve the global infrastructure productivity problem, and to become an all-round, better, civil engineer." 
Rhona Kerr: "I'm really excited to be working with Ed McCann in his year focusing on 'Optimal Infrastructure', I hope that we can build on the work that has been done by Rachel Skinner with her 'Shaping Zero' agenda and continue to push the industry towards our 2050 target. Infrastructure plays a huge role in carbon emissions and optimising our new and existing assets is going to be key to driving positive change. I'm looking forward to being able to contribute to this with the other future leaders."
Congratulations to Lara and Rhona on their achievement.
Our league table rankings
Top 100 in the world and 8th in the UK according to the QS World University rankings by subject (2021).
11th in the UK according to the Times University League Table (2021).
8th in the UK according to the Complete University Guide (2021).
Stay connected with your University
Experience all the benefits and services that come from being a Sheffield graduate.