Sheffield Civil & Structural Engineering Graduates Shortlisted for Award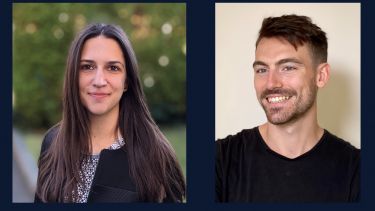 The Young Structural Engineering Professional Award is open to all young graduates or professionally qualified members, providing an opportunity to showcase their skills and achievements, and we're thrilled to see two of our graduates included within the shortlist.
Ioana Price first joined IStructE as a Student Member during her MEng Civil and Structural Engineering here at the University of Sheffield.  She was previously selected as a candidate for the 2020 Karen Burt Memorial Award, which recognises the best newly chartered female engineers from the participating Professional Engineering Institutions.
Ioana was drawn to STEM subjects from an early age and her passion to make a positive impact on the environment and her belief in the key role Structural Engineers play in shaping the world, led to her carrying out humanitarian projects working in Uganda.  She now works at AECOM where she has been involved in a range of projects such as a new 50,000 seat stadium in Cameroon for AFCON and a new airport terminal in Hong Kong, and where she is now developing tools and strategies to enable the creation of low-carbon buildings, making a real difference to our world and environment.
Ioana comments "It's an exciting time to be part of the engineering world and be driving the change to a more sustainable future".
With a keen interest in buildings and design, Max Clayton studied an MEng Structural Engineering and Architecture here at Sheffield.  Upon graduation, the combined structural engineering and architecture focus of his degree, led to him choosing a career in Structural Engineering as a way of fulfilling his desire to help society progress through his professional and personal contributions.
Max works at Structure Workshop, a consultancy that specialises in both artwork and architecturally driven buildings. His early key projects included high profile public sculptures, such as the Interpretation of Movement by Conrad Shawcross which hung from the roof of the Barlow train shed at St Pancras.
Increasingly the challenge of addressing the climate crisis has influenced Max's work. Recent projects include Hackney Bridge with Turner Works, a development where he explored and applied circular design principles to maximise reusability of the building's components, and Yorkton Street Workshops, a recent retrofit project where Max was part of the team that saved two dilapidated industrial buildings from demolition, resulting in a huge carbon saving, and winning the Architects Journal Retrofit of the Year Award 2021.
We congratulate Ioana and Ben and look forward to learning more about their engineering achievements in the days to come.
Our league table rankings
Top 100 Civil & Structural Engineering department in the world and 9th in the UK according to the QS World University rankings by subject (2023).
8th in the UK according to the Complete University Guide (2023).
10th in the UK according to the Times University League Table (2023).
Stay connected with your University
Experience all the benefits and services that come from being a Sheffield graduate.