The Integrated Design Project
Our award-winning Integrated Design Project (IDP) offers a distinctive opportunity to play a key role as part of a team working on a realistic design project. It's about creating and testing ideas to solve real-world problems.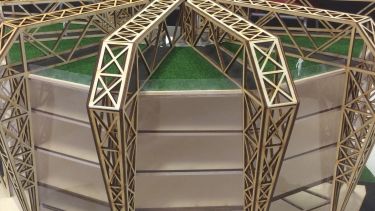 Off
The Integrated Design Project is a feature of all our undergraduate courses. You'll spend half of your third year on it, giving you the opportunity to fully experience the breadth and depth of a civil and structural engineering design project.
What does the project involve?
The project encourages you to unleash your creativity on a grand scale by devising plans for an entire urban regeneration project based on a real site in Sheffield. You'll investigate new design methods and construction materials while developing detailed designs such as elegant bridges, sustainable, efficient, environmentally-sensitive multi-storey buildings, or state-of-the-art sports venues. Don't forget the drainage, contamination and foundations that are essential to make everything else work.
---
It's a really great example of how you combine all your knowledge of the first and second years and apply it into a real project. It really feels like real work experience.

Monika Szczyrba

A graduate who now works for Stantec Ltd
---
The integrated design project will develop your skills in: 
acquiring, contextualising, and applying technical knowledge
group work – communication, leadership, discussion, planning, monitoring, assessing, peer review, reporting on progress, taking responsibility, taking action
understanding the bigger picture that surrounds engineering projects – the issues, aims, and sometimes the constraints; the different viewpoints of all stakeholders
creativity and innovation – priceless skills in the modern workplace
presenting and arguing the case for your ideas
You'll be introduced to industry processes, meaning you're enhancing your employability skills, learning how to be a professional engineer, widening the context of your academic learning, and becoming a more attractive graduate.
---
It's by far the best part of the course; it provides the opportunity to pull together all of the knowledge and skills gained over the course and apply it to a realistic design scenario where, in groups, you present your work at key milestones to the rest of the year group. This is a great test of character and prepares you for the real world.

Chris Walker

A graduate who now works for Breheny Civil Engineering
---
If you're building towards a career in civil or structural engineering, the project will be invaluable practical experience. Whatever you work on, you'll be getting a concrete feel for the kind of technical, professional and management issues that civil engineers come up against in the real world. It'll give you invaluable project experience after graduating when you're starting your career. And it'll equip you to shape the world we live in – every day of your working life.
Our league table rankings
Top 100 Civil & Structural Engineering department in the world and 9th in the UK according to the QS World University rankings by subject (2023).
8th in the UK according to the Complete University Guide (2023).
10th in the UK according to the Times University League Table (2023).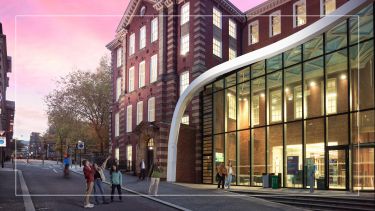 Visit us
Discover what sets Sheffield apart at our undergraduate open days on the Saturday 21 October or Saturday 18 November.