From catwalks to ward rounds, I ended up ditching fashion for nursing

Caitlin Friend
Nursing student
Nursing (Adult) BMedSci
My journey to university is a really interesting one. I'd originally planned to go to Nottingham Trent to do fashion and design, so studying nursing at the University of Sheffield was a bit of a change. But it's the best decision I ever made!
Both of my grandparents had been nurses and the thought of following in their footsteps and being able to give something back to society was really important to me.
But did I really want to swap the idea of catwalks and sewing patterns for ward rounds and stethoscopes?  
I'd been to the steel city once or twice before and it's not too far away from home, everything just felt right so I went for it!
The clearing process was really straightforward, I met the course leaders and they were so warm and caring. 
After results day I went on a Clearing Open Day, I wanted to make sure Sheffield was the right choice for me and it absolutely was. I had one-to-ones with my lecturers, they made me feel really welcome and I got a great feel for the campus.
My advice would be never feel like you're not good enough to come to university. You're not a failure if you don't get the grades you wanted and coming through clearing is nothing to be embarrassed about.

Caitlin Friend
I love living in Sheffield. It's got the perfect balance between feeling like a big city and yet still feeling homely. I love the leafy walk to and from my accommodation every day, there's so much green space. It's great to be able to explore new areas like Endcliffe Park, which was so close to my accommodation. Sheffield really is an outdoor city. It's now a home away from home and I know I've got so much more to explore in the next few years.
I was determined to keep playing netball when I came to Sheffield and at first wanted to join the University team. Unfortunately, because my course requires me to travel a lot to different areas, I wasn't able to commit to the team so I decided to join a local club and that was a great decision. I'm so happy I've been able to keep playing and I've met so many people I wouldn't have normally. 
I've made some really good friends during my time so far at University, including those who I'll live with next year in my accommodation. The fact that accommodation was guaranteed for clearing students in their first year was a massive weight off my shoulders. The location of my first-year accommodation was perfect. I loved the sociable atmosphere but I could also have time to myself if I wanted too.
The Students' Union at the University of Sheffield is so nice. There are loads of places to eat and relax and my favourite so far has been the pizza shop in The Deli. There are loads of trips you can take through the Students' Union to explore new places like Chatsworth House in the picturesque Peak District.
Lockdown hasn't really affected my studies. Everything's moved online and it's easy to ask questions during lectures. Of course, we're all missing being together right now, but I've got so many things to look forward to next year, like the Varsity ice hockey at the Sheffield Arena; I'll be there in 2021!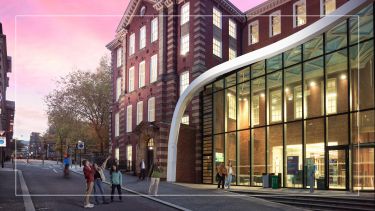 Visit us
Discover what sets Sheffield apart at our undergraduate open days on the Saturday 21 October or Saturday 18 November.