Morgan Mcarthur, BA Modern Languages
Morgan found the Sheffield clearing process easy to navigate, and felt prepared for university soon after being offered a place.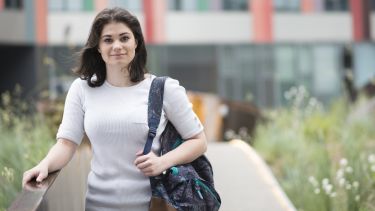 I originally confirmed Newcastle University for a completely different course to the one I am now studying at Sheffield. Whilst applying for university, I wanted to study dentistry, however I worked out during that year that I didn't enjoy one of the science A Level subjects I'd taken, so I came out of my exams quite worried about my grades and my future with university.
On A Level results day I found out I'd fell slightly short of my offer. Sheffield had actually been one of my five UCAS choices and I'd already visited one of the summer open days, so I knew it was a welcoming university and a great city with lots of culture. So I decided to call Sheffield to see if I could enrol on a language course through clearing. During my open day, I'd popped into the languages department and it was really interesting - so I was really pleased to see BA Modern Languages had entered clearing. 
Initially, you presume that if you miss your grades, results day is going to be really frantic and worrying. There's so much uncertainty leading up to results day, and on the day itself, students across the country find themselves in a position where they're calling universities, hoping there is space for them. But from the start, Sheffield was really reassuring. I was taken straight through to my department who were incredibly friendly. 
Sheffield were also the only university which I called who didn't just ask about my grades, but about my interest in the course I was wanting to join, and what I did outside of studying. This was really calming - on a day where it seems that students across the country are only judged by 3 or 4 letters on a piece of paper, it was nice to be reminded that everyone has achievements outside of A Levels too, and that there's more to the university experience which Sheffield in particular can offer students the chance to thrive in.
The communication on the day was really efficient - I wasn't on hold for ages. From the phone call to UCAS, once I had my offer confirmed, all of the paperwork and information was sent through quickly, and it was nice to feel as prepared for university as possible, so soon after getting my place here.
Sheffield was also much more appealing than other universities thanks to the accommodation guarantee! The process of securing accommodation was smooth, and the majority of the accommodation Sheffield offers is the same type (ensuite, self catered), so that took some pressure off the already busy process of choosing a university. The accommodation provided by the university is also really well suited to first year student life - Ranmoor/Endcliffe is its own student village away from the city centre, with all the facilities you would like (washing, shop, food / bar) all within it and at walking distance from the university.
My time at Sheffield has been life-changing. I've been given so many opportunities to thrive with my academics and my interests outside of studying - Sheffield is a world class university and I've found that it's definitely reflected in the student experience. This summer I'm taking part in the SURE project, which has already helped me prepare for final year well. My department has also given us other opportunities, such as the French play (run by teaching staff), speaking French on a French radio station about Brexit, and working in schools to increase language uptake at GCSE level in a new government initiative. 
My advice for any students going into clearing is don't stress unnecessarily. I'd definitely recommend making a list of universities and numbers to call on results day for courses you like - even if you're confident with your results, and if you achieve the grades you would like or not, this calmed many of my friends and I down in advance of results day. 
As well, it's okay to change your plans and course choice - if you work out that you don't want to do the course you originally signed up for, taking the time to research all your options and speaking to a leading institution can calm worries. 
Finally, if you do find yourself in clearing, I'd recommend taking your results to somewhere you're comfortable - this will calm some nerves with the phone calls. 
Remember to go and celebrate once you've got your university place - you've worked hard for it!