Five top tips for surviving Clearing
Jenny Upton received an offer through Clearing just a few hours after she called on results day, after missing her grades to attend her first choice of Cambridge. Here, she shares her top five tips for surviving Clearing.
Tip 1 – Be prepared
Whether you think you've got the grades or you haven't, it's best to have a back-up option. Get in touch with universities prior to results day and get some numbers for Clearing hotlines. Ask about accommodation, finance and the course itself. Some universities like the University of Sheffield offer Advance Registration which means you can apply for a course prior to results day.
Tip 2 – Don't panic!
Lots of people don't get their results but it's not the end of the world. They'll always be somewhere for you and I've found my time to be amazing and I've loved it. Exam results day doesn't have to be a terrible experience. Sometimes you can get better results than you expected which is what adjustment is for. If you find yourself with better results, you can look at better universities and see if there's a course out there that you might enjoy more.
Whilst I was researching Clearing, an advert popped up for Advance Registration at the University of Sheffield. I hadn't previously applied or looked at Sheffield, but I knew it was Russell Group so I was surprised to see that I might be able to get into such a good university.

Jenny Upton

MEng Mechanical Engineering with Nuclear Technology
Tip 3 – Find a quiet place
Find somewhere quiet to make your phone calls and have someone there to support you who you trust and can help you to keep calm.  
Tip 4 – Don't be pressured into taking the first offer you receive
Some universities will give you a few days to think about their offers. This means you don't need to feel the pressure of accepting immediately. Make sure you do your research, check out the university if you can and ask your friends and family what they think.
Tip 5 – Accommodation
Some universities like Sheffield offer guaranteed accommodation for Clearing students (provided you meet a few conditions). If that's not the case, make sure you know what you need to do and make sure you have everything sorted before you go to university.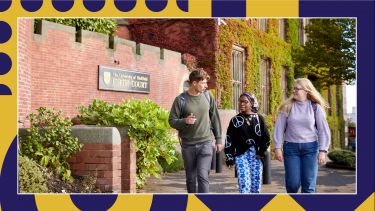 Results and Clearing 2022
Join a Russell Group University with the best Students' Union in the UK. Our clearing vacancies are now open. Apply online or call us on +44 114 212 9900.