KTP Associates' Conference 2021 - The KTP Springboard Effect
The University of Sheffield was delighted to host the annual KTP Associates' Conference on 7-8 July 2021.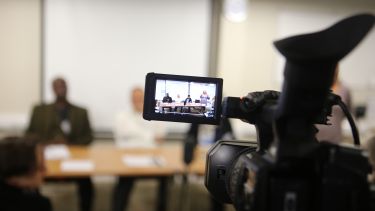 KTP Associates hold a unique and important role, transferring knowledge and embedding technology and innovation across all sectors of industry. The Conference was a great opportunity for delegates to meet like-minded individuals, share ideas and boost their innovator skills to the next level.
Please join our LinkedIn group for more information and to start networking!
Event Synopsis, Day 1:
Day 1 kicked off with a welcome talks from Richard Lamb, KTP Programme Manager at Innovate UK and Dave Petley our VP for Innovation at the University of Sheffield.
The day then moved to a fun, interactive session with Alison Buxton from MakerFutures who encouraged delegates to think on their feet and create balls and devices to launch them! Some great pictures and videos were sent in.
The Conference then moved into an informative session with the KTN who provided an overview of the Innovation Strategy course, explaining how the Innovation canvas can be used as a tool to help businesses explore, design and deliver an innovation strategy that supports the successful delivery of a KTP.
Everyone then had a chance to join breakout rooms providing an opportunity to talk with associates from Sweden, chill out and chat and meet with the KTNs KTP advisors to learn their top tips.
Finally delegates heard from James Devlin, Project Engineer at McLaren who talked through his own experience of a KTP.
Event Synopsis, Day 2:
The second day started with a welcome from John Flint, Faculty Director of Research and Innovation for social sciences at the University of Sheffield and moved straight into another inspirational talk from Tom Deakin at local company Lablogic who talked delegates through his experience of a KTP
Everyone then visited different breakout rooms and networked with other associates. 
The conference closed with Kate Platts and Tony Mucci from Westfield Health who discussed their experience of KTPs from the perspectives, both of the business and the associate.
Thanks to all who attended and all the speakers. 
Events at the University
Browse upcoming public lectures, exhibitions, family events, concerts, shows and festivals across the University.