New study discovers how cells vital for organ function arise during early human embryonic development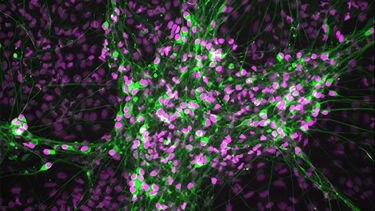 The trunk neural crest is an important cell type which during embryonic development, gives rise to a family of "sympathetic" neurons that control the function of crucial organs, including the heart and hormone-producing cells of the adrenal gland.
When "mutated", these cell groups can lead to neuroblastoma, a rare type of cancer that affects babies and young children. But despite their importance, not much is known about how human trunk neural crest cells develop in the womb or how they produce neuroblastoma in some "abnormal" cases.
Using a petri-dish model, the research led by scientists from the Department of Biomedical Science at Sheffield in collaboration with international partners set out to address the lack of knowledge in this vital area.
The team succeeded in generating relatively pure populations of trunk neural crest cells in the petri-dish from human pluripotent stem cells (hPSCs), unspecialised cells that resemble the early human embryo which can produce any cell type in the body when treated with the appropriate cocktails of chemicals.
The researchers then found that petri-dish produced trunk neural crest cells could be efficiently converted into sympathetic neurons which have the same properties as their living counterparts.
---
Our work opens new avenues in the field of stem cell "bioengineering", providing the opportunity to understand better the biology of human trunk neural crest cells and neuroblastoma without the need to use animal models or primary human foetal tissue.

Dr Anestis Tsakiridis

Group Leader for the Centre for Stem Cell Biology, University of Sheffield
---
The Centre for Stem Cell Biology at the University of Sheffield brings together researchers focused on developing the basic biology and technology that will underpin the use of human Pluripotent Stem Cells for applications in medicine, whether for a direct use in regenerative medicine, or for disease modelling, drug discovery and toxicology.
The paper Human axial progenitors generate trunk neural crest cells in vitro is published in the journal eLife.
A world top-100 university
We're a world top-100 university renowned for the excellence, impact and distinctiveness of our research-led learning and teaching.