Richard Simpson
English Language Teaching Centre
Director of English Language Teaching Centre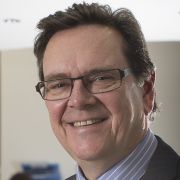 78 Hoyle Street
Full contact details
Richard Simpson
English Language Teaching Centre
78 Hoyle Street
Sheffield
S3 7LT

Profile

Richard joined the English Language Teaching Centre (ELTC) in February 1995 and became Director of ELTC in September 2007. Since 2016 he has also had management responsibility for the Modern Language Teaching Centre (MLTC).

Many hundreds of international students start their University journey at the ELTC and many more are supported there during their studies. The MLTC is a major language provider for University degree courses and contributes greatly to the University's 'Languages for All' initiative, available to students, staff and the public.

Richard is currently Chair of the Extra Faculty Learning & Teaching Committee and is serving his second term on Senate. He is a trustee and board member of English UK, the national association of British Council accredited language providers.

Richard gained a BEd in Northampton and spent a sabbatical year as president of the Students Union there. He taught English in Italy and Japan before taking an MA and teaching at the University of Newcastle. He is also a part-time doctoral student in our School of Education.