Returning to education can be daunting but if you have a genuine interest and want to succeed, you can!

Sarah
Mature Student
BSc Geography
Sarah always knew that she wanted to return to university at some point and she felt that DLL made that possible for her and has given her the opportunity to face her fears.
What had you been doing prior to coming to University/since you left your earlier education?
Before coming to university, I was working full-time in a supermarket in Brighton. I had previously attended university when I was 18 but struggled due to poor mental health and family circumstances, and eventually dropped out. I took a few leave of absences before doing this as it was hard to pluck up the courage and admit that it hadn't worked out. However, it was definitely the right thing to do in the end, for the sake of my mental wellbeing. 
Why did you decide to return to education as a mature student?
I always knew that I wanted to return to university at some point if it was possible and thankfully it was. When I found the right course for me, I had to take the opportunity and face my fears. At first, I was apprehensive about being a mature student and I was worried about fitting in. However, I felt it was worth a shot and it has definitely paid off!
Why did you choose to study at DLL? At TUOS?
I researched a few different foundation courses and universities before landing on DLL and Sheffield. I decided to study at DLL because they provided the course pathway that I wanted, and I felt like the course structure would stand me in the best stead to go on and complete a degree. I decided to study at Sheffield as I looked at the BSc Geography modules and was immediately excited at the prospect of what was on offer. I also wanted to take the opportunity to study at and get a degree from a top UK university.
What do you like most about Sheffield as a city?
Sheffield is an amazing city that is a perfect medium between having the benefits of a big city, while also having the Peak District on your doorstep. I am very sporty and love the outdoors so the ability to be able to hop on a bus and be in the peaks is something that I relish. Sheffield has a lot of lovely parks (my favourite is Bole Hills!) which are lovely to take a stroll around in or have a picnic. Sheffield has a fascinating history, and the museums are great. Kelham Island is a great place to go for food and is at the centre of Sheffield's old industrial heart.
How did the foundation year benefit you/prepare you for your degree study?
The foundation year prepared me incredibly well for my degree. I have come into first year feeling more prepared than I did coming from A Level study. The foundation year gave me the tools to succeed by teaching referencing, how to write an academic essay, and content related to my degree pathway. It helped me to ease back into education at a good pace that wasn't overwhelming.
What did you enjoy most about the FDN year?
I have a few things that I enjoyed the most! Firstly, I would say that it gave me the chance to meet people of all ages on a range of degree pathways. I was really worried coming into DLL about how I would cope socially but I met so many amazing people and have made some great friends from it. Secondly, the staff in DLL are brilliant and so supportive. As an autistic person it was so important that the welfare staff and my tutors were really helpful and understanding of my needs. Lastly, I really enjoyed the classes themselves. The structure of smaller classes allowed me to settle back into a classroom setting before going into lectures in the first year and the content itself was interesting and engaging.
What have you enjoyed most about your degree course?
So far on my degree course I have enjoyed the mix of lectures, labs, and smaller, interactive classes. I am excited about picking modules next year that align with my specific interests and the array that is on offer. This year we went on a three day field class to the Peak District which allowed us to use our skills that we had learnt and also gain more experience in conducting research. I am also looking forward to a field trip to Spain next year! 
What are the biggest challenges you've faced, and how have you overcome these?' 
The biggest challenges for me have been dealing with mental health issues and imposter syndrome. I have struggled with anxiety for a long time, and it can massively affect my studies. This will always be a challenge for me, but I have dealt with this by being in contact with the wellbeing service, playing sports and keeping active, and with the support from my amazing wife. Imposter syndrome was something I dealt with while on the foundation year; I had thoughts like "What if I'm not good enough" and "I don't deserve to be here". This was really difficult but in time and with the help of my tutor in DLL, I realised that I deserved my place, I have the passion to succeed on my course and that university is for everyone, not just those who have followed the more "traditional" routes to higher education. Being autistic at university has its challenges however with the help of DLL, the Geography department and the Disability and Dyslexia Support Service, I have been able to get the most out of my studies and access the right support. 
What advice would you give to other mature students considering a return to education?
The best piece of advice I can give is something my wife told me, and that is: just go for it! Returning to education can be daunting but if you have a genuine interest and want to succeed, you can! Education is for everyone, regardless of age and intersectionality. 
Another piece of advice is, don't be afraid to ask questions! There is no shame asking for advice and help, no one knows everything, and the chances are, someone else is thinking the same as you. Before applying for my course, I contacted DLL numerous times and they were a great help.
What do you plan to do after your degree?
After my degree I am hoping to do a bit of travelling (South America is the dream) and then do a masters and hopefully a PhD! I love studying and am keen to be a researcher or a policy maker in the future. 
Is there anything else you would like to share with us about your experience of being a mature student at the University of Sheffield'?
University is a great place to explore your interests and meet new people. Joining societies or sports clubs can be a daunting prospect for people, especially mature students. But don't let this stop you! Joining a society or sports club is a great way to meet new people and increase your mental wellbeing and/or fitness in the process, and The University of Sheffield has a lot to offer. I am a member of a number of societies, and I couldn't recommend it enough!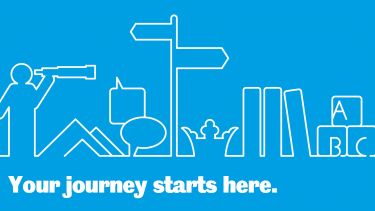 Discover Summer School
Starting Wednesday 26 July and running for one morning a week for three weeks. Join us to gain a real taste of life as a mature student.
A global reputation
Sheffield is a research university with a global reputation for excellence. We're a member of the Russell Group: one of the 24 leading UK universities for research and teaching.