About the School of Education
We are a leading School of Education, with an international reputation for the impact and quality of our research and the excellence of our teaching.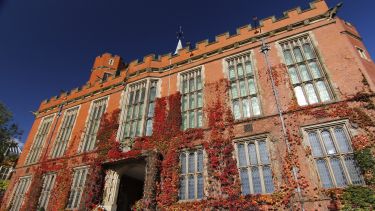 Off
Joint 1st in the UK for Education research impact (2021 Research Excellence Framework)
We are proud that 86% of our research is rated in the highest two categories in the Research Excellence Framework 2021, meaning it is classed as world-leading or internationally excellent. We are rated joint top nationally for our impact submission.
Education touches everyone's life at some stage, which is why debates about education – values, policies, theories and practice – are of global concern. Education is seen as a right and an entitlement but is increasingly caught up in economic and policy debates about its effects and effectiveness.
In the School of Education, our research and teaching sit at the forefront of these debates, focusing on concerns about equity, access, inclusion and social justice.
---
Studying and researching in the School of Education
When you choose to study with us, you will engage with a range of modules that encourage critical thinking and evaluation of contemporary issues that affect children, families and communities in local, national and global contexts.
You'll understand the inter-disciplinary nature of Education, incorporating Sociology, Psychology, Disability Studies, Philosophy, Politics; History and Anthropology, along with a range of theories and methods for carrying out your own research.
Our students participate in a community of scholarship, with access to research seminars, and opportunities to engage with leading international researchers. You'll connect with recent research, with contrasting ways of thinking about Education that may challenge your preconceptions and experiences. 
---
As Head of School, I am privileged to work with a talented and diverse group of academic colleagues and students, with all aspects of our work supported by dedicated professional service staff. We aim to make your time with us challenging, memorable and transforming, with new connections, knowledge and friendships that will last a lifetime.

Professor Rebecca Lawthom

Head of the School of Education
---
A community of research and scholarship
We offer a diverse and multi-disciplinary environment for research and teaching, with consistent feedback in the NSS about the quality of our academic and pastoral support for undergraduate students. Our international community of Masters and Doctoral students receive rigorous research methods training as well as pursuing their own research.
Our Doctoral students conduct interdisciplinary research that often helps them to address educational problems and challenges in their home communities. They develop international perspectives through attending conferences and seminars, as well as publishing their research in books, journals and blogs.
A global reputation
Sheffield is a research university with a global reputation for excellence. We're a member of the Russell Group: one of the 24 leading UK universities for research and teaching.