Qualified Teacher Status (QTS) explained
Essentially, teaching qualifications are national, professional qualifications, and are typically government-approved. Therefore Qualified Teaching Status (QTS) in England is, legally, only valid in England.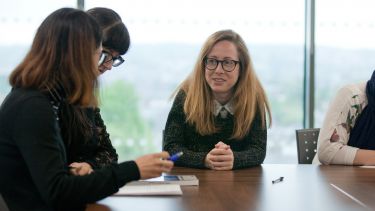 While QTS may be a shorthand in other contexts, it does not, for example, qualify a teacher to teach in other countries, without an appropriate conversion. Similarly, teachers who trained in other countries may need to convert their qualification, should they want to teach in England. Even in England, however, QTS is currently needed to teach in state schools, but not, legally, in academies or private schools, which describes a large proportion of schools in England. Because QTS is a specifically England-relevant qualification, it is very difficult to obtain abroad, apart from in a very small number of accredited schools. International schools are typically aware of this, but if you have concerns, do discuss them with the relevant school or us.
 Most of our students are already involved in the international school sector, as teachers, teaching assistants, or in other roles. Each cohort of students so far has included the following:
students who make the jump from teaching assistant to teacher in the international school sector, on the basis of the iPGCE
students who have gained a teaching position on the condition that they complete the iPGCE in their first year of teaching
students who have been teaching for several years, and are using the iPGCE as a stepping stone for higher-level (Masters) study, to advance their careers
students who use the iPGCE as proof of a post-graduate educational qualification from a highly regarded institution.
While 'Qualified Teaching Status' or being a 'qualified teacher' might be a shorthand used in job descriptions or in general talk, it is often used with two very different meanings - on the one hand, a legal term, related to a very specific professionally accredited qualification, for a very specific context. We want our students to trust that they are getting a highly valuable degree from a prestigious university, so we need to explain to you that, with this definition, the iPGCE is not for you (however, if you are looking to move to and teach in England in future, there is an assessment-only route to qualified teaching status, for which the iPGCE will stand you in very good stead as preparation).
The other meaning schools might use to refer to a qualified teacher is by using the term as shorthand for a teacher who has pedagogically sound training, is able to plan, teach and evaluate lessons, understand their local and professional context (and be able to add to it through practitioner-led research), and engage reflectively in their own practice. And with that, we can help - and we can prove it. Schools are sending us multiple students across different cohorts, and schools are making offers to unqualified applicants, on the condition that they undertake our iPGCE. Overall, we find that schools are very much aware of difficulties of obtaining English QTS whilst working abroad, and our students tell us that their schools are happy to accept the iPGCE as a postgraduate education certificate from a university with a very long-standing background in teacher training. So, while we obviously cannot guarantee that all schools will accept the iPGCE, we hope this information is helpful to you making your decision.
The content of our courses is reviewed annually to make sure it is up-to-date and relevant. Individual modules are occasionally updated or withdrawn. This is in response to discoveries through our world-leading research, funding changes, professional accreditation requirements, student or employer feedback, outcomes of reviews, and variations in staff or student numbers. In the event of any change we'll consult and inform students in good time and take reasonable steps to minimise disruption.
Information last updated: 26 January 2023
---
Weekly online events
Attend an online event when it suits you, all year round, as an alternative to an open day.
Every Wednesday, Sheffield Live sessions cover different aspects of University life. You can also meet your department and learn more about studying your subject.