Dr Jessica Bradley
BA (Hons), MA, PhD
School of Education
Programme Director of the BA Education, Culture and Childhood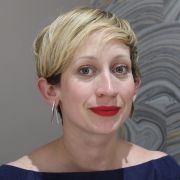 Research interests

Jessica is an ethnographer, with research interests in language and creative practice in formal and non-formal education. Her AHRC-funded doctoral research was carried out in the School of Education at the University of Leeds, as part of the TLANG project: 'Translation and Translanguaging: Investigating Linguistic and Cultural Transformations in Superdiverse Wards in Four UK Cities'.

Her research (eg, Bradley & Moore, 2018) in the UK and Slovenia explores dynamic communication in the context of community arts and, specifically, street arts. Her PhD investigated how street artists work together to create productions and perform. Although applied linguistics-based, her research is interdisciplinary and her thesis took her in different directions, including towards folklore and story-telling.

She focused on the sociolinguistic concept of translanguaging, applying it to street arts production and performance and her interests lay in how it could be extended and expanded to incorporate multiple, intersecting modalities. Her findings relate to notions of trans-semiotisation and how scripted emergence is enabled by creative practitioners working together to co-create art.

She suggests that there is potential for translanguaging to be understood through posthuman approaches to applied linguistics and that there is scope for rethinking communicative practices through expanded notions of interaction, shifting towards intra-action. This has opened up her original research to new interpretations which she continues to develop.

At Leeds, she developed and co-led a series of arts-based projects. These include the AHRC-funded 'Migration and Home: Welcome in Utopia' project which used multimodal and arts-informed approaches to understandings of 'welcome'. This was part of the Connected Communities Utopias 2016 Festival (e.g. McKay & Bradley, 2016) and led to the ESRC-funded 'Migration and Settlement: Extending the welcome' (Leeds Social Science Institute) which investigated arts-informed practice and adult migrant language education. Both projects have developed into research around 'Belonging', at the intersection of applied linguistics and creative inquiry.
Publications

Edited books

Journal articles

Chapters

Website content

Theses / Dissertations

Working papers
Grants

'LangScape Curators' was initially funded by the University of Leeds (e.g. Bradley et al., 2018) and its follow-on project, 'Multilingual Streets' is funded by the AHRC OWRI Cross-Language Dynamics programme in collaboration with the University of Manchester.

This project uses co-productive methodologies and arts-informed practice with young people to develop understandings of linguistic landscapes and sits at the intersection of applied linguistics, modern languages and creative inquiry. It also aims to disrupt linear notions of impact and engagement, considering engagement itself as research practice and epistemology.
Teaching interests

Jessica is Programme Director of the BA Education, Culture and Childhood. She also teaches across the postgraduate courses in the School of Education, including the MA Education and EdD programmes. She is part of the team developing a new MA course in digital culture and literacies.

Prior to joining the University of Sheffield, she was Lecturer in Linguistics and Education at Leeds Trinity University where she convened and taught on modules in Research Methods in Education and Linguistics, Sociology of Education, Child Language Acquisition, Sociolinguistics and Pragmatics and Action Research for teachers. She has also taught at the University of Leeds and from 2005-2012 she was actively involved in the Linguists into Schools module.
Professional activities

Research network activities