#supervisionaries is a project giving postgraduate research students the opportunity to recognise the work of their excellent supervisors.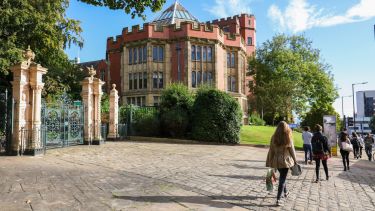 Off
The project was created to support and celebrate good supervision and share examples of supervision that have had a positive impact on doctoral researchers, as well as publicly thanking those who make a positive difference to their students.
#supervisionaries identifies the School of Education as an outstanding department from the high number of positive messages from students and reflects the passion and dedication that our team of academics bring to their supervision.
---
Supervision all-rounder
Lorraine Campbell

Lorraine was great at supporting and guiding my ideas and responding promptly to my often hurried and panicked emails, which I imagine were hard to decipher at times through my blind fear! She never failed to make me feel better and keep me going to the end point. A fantastic support.

Heather Ellis

Heather is a great supervisor. She is very approachable and friendly. She always responds in a timely manner and gives effective feedback on all draft work. Her knowledge and experience are invaluable in the supervision process.
She is encouraging and always appears genuinely interested in my research.

Dan Goodley

Dan encourages me to delve more deeply into certain issues, to explain them, and in this explaining I discover nuanced perspectives that I may previously have glossed over. He is incredibly supportive, and makes me feel as if we are a team. Although my commitment to the PhD has never faltered, many times I've felt overwhelmed by this work but Dan's continued faith in me has bolstered my wavering faith in myself. Thank you!

---

Dan became my supervisor in 2014. His sensitive, motivational and professional disposition allayed my anxiety of a professorial supervision. Overwhelmed with my first Ed.D assignment, I communicated my desire to discontinue the programme. He responded immediately and we Skyped. His reassuring words: "Stop thinking of the big words; just tell a story. You can do it." He encouraged me to email/Skype/call any-time, returns my drafts within 24 hours, with constructive feedbacks. I'm now in the final stages of my story telling - my Ed.D Thesis.

Tim Herrick

If I must put kindness, compassion, empathy, respect and trustworthiness as well as being professional, efficient, approachable and academically skilled under one overarching term, that would be the name of my supervisor, Dr Tim Herrick. I have learned a lot from him and hope to do so even more in my coming years. His manner of guiding me, giving constructive feedback and helping me develop is worth praising. He knows the art to tailor his style of supervision according to the unique needs of the student. What makes him further stand out is not only his guidance in professional terms but the extra mile he goes to facilitate his students and always be there for them. And he manages to do this, while facing the same academic pressures as everyone else. He is an excellent supervisor and I respect him a lot. 

---

Tim has been an exemplary supervisor in all regards, frequently going above and beyond my expectations. He is generous with his time, well-organised, replies to emails promptly, and offers useful and collegiate feedback on my work in very good time. He is also kind, friendly, and approachable, and clearly recognises the importance of his students' wellbeing. 

---

Tim's supervision and critical insights have enabled me to critically reflect on my research and have given me the confidence to take risks in my research.

He has supported me through difficult times, and kept my work on track. As a result of working with him, my whole perspective has changed and I have re-focused my work to an area that will be really valuable to me and others in my field.

I reconsidered my use of theory in my research and now centred my research away from the process of writing and towards the interactions of tutors and students. 

David Hyatt

David was my master's supervisor and now my EDd tutor. He is knowledgeable in the domain of my research interest and even if what I was researching is not his interest, he would always provide critical feedback on my work that prompts me to move in the right direction of my research.

David gives candid feedback but puts it most professionally. He was patient and supportive when I expressed my insecurities regarding the completion of my studies but will always remain firm to correct me whenever he needs to. To me that makes him a great supervisor!

Sabine Little

Sabine is an inspirational supervisor and mentor. She takes a personal interest in her students and is always ready to share her skills, knowledge and expertise. We share a passion for education, language and communication, and our discussions are always thoroughly enriching.

She believes in me and is always encouraging me to pursue various opportunities throughout the course of my PhD journey, thus enabling me to grow on both a professional and personal level.

Her guidance and constructive feedback are invaluable as she has a knack for "pushing just the right buttons," empowering me to refine my ideas and to develop my own strengths and personal attributes.

---

Sabine is a really wonderful PhD supervisor! She supports me in not only in academic areas but also in other aspects. As a first-year PhD student, I sometimes feel really stressed and have lots of questions in mind when writing for my confirmation review. Sabine is always there and responses quickly to all my questions! I feel secure and feel clearer about what should be done every time after talking with her. She also encouraged our PhD students to form a study group, which also helps a lot. Thanks to Sabine for all the amazing work she has done to support my PhD journey, and I wish I could learn more from her for the next few years :)

Kirsty Liddiard

I spoke to Kirsty about my research and she was so positive, making suggestions and was excited about the subject. For very joyful reasons Kirsty was not able to be my supervisor for a while. By the time she returned I was on the verge of throwing in the towel. I was insecure, the subject was very sensitive and having an impact on my wellbeing. After one discussion I was re-energised, she listened and understood why I was in this mess. She broke things down into manageable chunks setting realistic targets and shared my ups and downs. I submitted a draft piece of work and I was so nervous. When I got it back the first word I tuned into was 'brilliant', after that everything she said made sense, the constructive criticism was easier to digest and the parts that were acceptable were acknowledged. When I am finding the subject hard I can send her an email about how I feel and she is straight back with ideas for wellbeing support. I am now back on track and feeling positive about my research and feel sure I will achieve my goal with her support. I offer back the word she gave me to let me know I was doing well: she is a BRILLIANT supervisor.

Themesa Neckles

I am blessed that Themesa Neckles agreed to supervise my PhD. She sees what is important to me and my work and brings her heart and head to support and challenge in equal measure. 

Yinka Olusoga and Jackie Marsh

Dr. Yinka is my first supervisor and Professor Jackie is my second supervisor. I preferred to talk about them together as they were working in perfect harmony as if they were one person. This helps in removing any obstacles and clarifying any misunderstanding that might occur because of different views of the first and second supervisor. Yinka and Jackie have a great way to criticise my work, they express their opinions as other different points of view that explain to me different ways of doing something. Then they give me the opportunity to choose the appropriate way to do what I believe in. In general, I am happy and enjoy working with them during my PhD. Therefore, I would like to take this opportunity to thank Dr. Yinka and Professor Jackie for their support and guidance.




Andrey Rosowsky

Andrey was brought in to supervise my PhD project in Autumn 2017, when my former supervisor left the University.

Stepping in to supervise a project that was not his own was no small feat, and yet, Andrey grasped the challenge with both hands, ensuring the continuity of my PhD, whilst also adding his own expertise to it.

Rather than trying to mould the project into something more familiar to his own experience, he has found no difficulty in stepping out of his comfort zone in order to guide me as best he can. I am a better academic for his support, and a better person too.

Katherine Runswick-Cole

I am fortunate to have Katherine as my supervisor. She is approachable for any of my concerns and questions. Her encouragement and guidance help me to develop both my research and my confidence as a researcher. She is modest because although she is an informative and brilliant researcher in her field, she never made me feel that I have less experience. On the opposite, she always motivates me to discover my own strength. Her feedback is precise, critical and with questions that challenge your thoughts to make them better. Thank you, Katherine.

Meesha Warmington

Meesha not only cares about my PhD project, but also my well-being. She directs me in what to read, and how to conduct experiment and analyse data. She is both kind and candid in criticism. When I felt the most vulnerable during COVID-19 pandemic, she was there for me. Meesha is a trustworthy supervisor that can be counted on to be there for me whenever needed.

Darren Webb

Darren is an incredibly supportive supervisor. He offers extremely thoughtful and constructive feedback on drafts. He engages with my ideas about my thesis, while also challenging my thinking and prompting me to consider points that I hadn't thought of. He has also encouraged my to present my work at conferences which I've found highlight valuable, and has given good advice on the best way of doing this. During the pandemic he has been really understanding of my situation but has also helped to keep me on track. I feel very lucky to have Darren as a supervisor for my thesis.

---

Darren continuously encourages me to find my own voice and my own specific frame within the field I´m working in.

His comments and feedback are always useful and points me towards additional sources.

He suggests events and further reading that help grow my understanding and also replies to emails at super speed which allows me to get on with my work if I happen to be stuck.

Tony Williams

Tony has a tremendous subject knowledge to which he brings authenticity, integrity and more patience than any one person should have! He is generous with his suggestions and crucially allows me the time to 'find my way'. He won't tell me the answer but gives me the space to think it through. Our sessions are dynamic, creative and considered.

---

One of the most important aspects of my supervision has been Tony's clear insight into my goals and aspirations for my PhD. His support helps me to remain focused and grounded in my intentions, constantly encouraging me to understand the wider picture. His expertise in the field of my research interest has been invaluable in extending my learning both in breadth and depth. I am very appreciative of his support and his willingness to challenge my assumptions about the field of my research interest.

Liz Wood and Liz Chesworth

I would like to nominate both of my supervisors, Liz Wood and Liz Chesworth.

They are incredibly supportive of my thinking and have encouraged me to pursue theories and methodologies outside of the norm. They have trusted me to be creative and to explore my thinking and this means so much.

My supervisions are full of lively conversation and their critiques are done in such a way to fine- tune my thinking.

It has been a privilege to have them and I feel lucky and proud to say I am supervised by them and they treat me as an equal, this is particularly moving for me. I'm a first generation university attender and they make me feel like I belong to this gang.

Having co-supervision has worked really well for me. I have shifted my identity from academic to scholar through their wise counsel.

My supervisions are a highlight for me, the support they give through e-mail on my draft writing is always thoughtful and questioning and supports me in developing my thinking and writing. I'm proud to be a Sheffield EdD student and don't want it to end.



 
A global reputation
Sheffield is a research university with a global reputation for excellence. We're a member of the Russell Group: one of the 24 leading UK universities for research and teaching.