A National Observatory of Children's Play Experiences During COVID-19
This 15-month, ESRC-funded project in collaboration with UCL and partners will create an 'observatory' of children's play during this unique time, to capture the impact of the COVID-19 pandemic on children's play and peer cultures.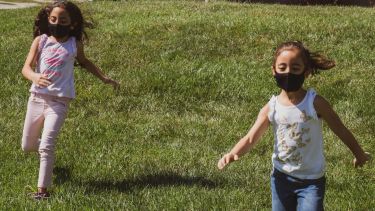 Off
The COVID-19 pandemic has disrupted almost every aspect of children's everyday lives through local and national lockdowns, the closure of schools, clubs and play spaces, and through social distancing measures. This timely project funded by the ESRC brings together researchers from the University of Sheffield and University College London with partner organisations Great Ormond Street Hospital, the British Library and the V&A Museum of Childhood to explore the impact of COVID-19  and accompanying restrictions on children's play and wellbeing over the course of the pandemic.
By combining a nationwide survey of children's play across a range of settings with ethnographic research, the project will act as an 'observatory' seeking a panoramic view of young people's play, peer cultures and social lives at the present time across the UK. The interdisciplinary team will gather examples of indoor, outdoor and imaginary play, including digital play from onscreen games to social media, and aims to record the rich diversity of children's experiences by ensuring that under-represented groups and communities are reached and included.
Children are being invited to act as observers and reporters of their own play by submitting examples to the Play Observatory. Researchers anticipate collecting drawings and photographs, videos and screenshots, and written and audio descriptions of pandemic-related play, uploaded to the survey by adult participants such as  parents and caregivers, youth group leaders and school teachers.
The project asks:
How have children been playing during the pandemic from the initial outbreak, through lockdown and during social distancing?
How has the pandemic featured in play and peer culture, and what insights does this offer into children's unique experiences of it?
 What continuities and discontinuities in play are emerging, and how are they comparable to those in the past, and between different communities?
How can interdisciplinary perspectives help us better understand the role and value of play for wellbeing during times of crisis?
The study follows in the footsteps of another 'mass survey', the questionnaires distributed to schoolchildren around Britain by folklorists Iona and Peter Opie from the 1950s onward, in its intention to capture a child's-eye-view of the pandemic. Its findings and outputs will be of value to academics across a range of disciplines, policy makers, play specialists and the general public.
Project Outputs will include:
An online observatory, publicly searchable and accessible
A virtual exhibition of children's contributions to the project curated with the V&A Museum of Childhood
The development of Wellbeing Tool Kits for children in times of anxiety, co-created with children's play specialists at Great Ormond Street Hospital
A publicly accessible sound archive held at The British Library
A radio documentary about the research
Dr Yinka Olusoga (CO-I) is leading the interactive online survey strand of the project within the School of Education at the University of Sheffield, with researchers Dr Julia Bishop and Dr Cath Bannister, supported by Dr Valerio Signorelli (The Bartlett Centre for Advanced Spatial Analysis at UCL), and in consultation with archives specialist, Steve Roud. The strand carrying out  in-depth case studies of children's play is being led by the UCL team; Project PI Professor John Potter based at the UCL Institute of Education  (UCL Knowledge Lab), Dr Kate Cowan and Dr Michelle Cannon (both UCL Institute of Education), although all team members are working collaboratively across both project strands.
Contact: j.potter@ucl.ac.uk; e.olusoga@sheffield.ac.uk
Website www.play-observatory.com
Twitter: @PlayObservatory
Co-Investigator
Flagship institutes
The University's four flagship institutes bring together our key strengths to tackle global issues, turning interdisciplinary and translational research into real-world solutions.