Psychoeducation and paediatric neurodisabilities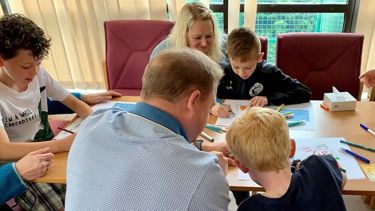 Off
Psychoeducation for children and young people with Attention Deficit Hyperactivity Disorder (ADHD)
The School of Education's Dr Lauren Powell has collaborated with the University of Derby, NIHR's Children and Young People Medtech Cooperative (CYPTECH) and Sheffield Hallam University's Lab4Living to co-design a psychoeducational resource to help primary aged young people with ADHD learn about and manage their condition. Whilst psychoeducation interventions are recognised as being beneficial for this group and recommended by UK clinical guidelines, there is little age-appropriate material currently available.
 
Children and young people with ADHD, their parents, clinicians educational professionals, charities, and academics, have been central to the project throughout; from identifying the unmet need, to co-designing the content of the resource, to testing and developing initial prototypes.
The activity book has now been adopted by several schools' charities and NHS Trusts and Councils across the UK. The resource can be downloaded from the ADHD Foundation website via this link.
If you would like to read about underpinning evidence, click here. If you would like to read about the evaluation of this resource, it can be found here.
Psychoeducation for autistic children and young people
Funding has also been gained from the ESRC Impact Accelerator fund to adopt the same methodology as stated above to co-design a resource for primary-aged young autistic people who attend a mainstream school.
A prototype has been drafted and will be evaluated in April 2023, with a view to releasing it to be adopted by services by the summer. If you would like to provide feedback on the draft resource, please contact Dr Lauren Powell (contact details at the end of this page).
Psychoeducation for teenagers with ADHD
Dr Powell is collaborating with colleagues at Loughborough University to look at the information needs of this population with the intention to provide a resource for this population in the future.
Psychoeducation for education professionals working with autistic children
Dr Powell is also worked alongside a former MSc student from the University of Sheffield's School of Education to learn about the needs of teachers in mainstream school with regards to learning about supporting autistic children in their classroom. The aim was to find out what they already knew, what they felt they needed to know and what styles and modes of resources they felt would be helpful for their profession. Dr Powell and the former student are now working towards publishing this work.
Psychoeducation and paediatric Obsessive Compulsive Disorder (OCD)
White Rose ESRC funding has been gained for Elizabeth Colbert to study a PhD, supervised by Dr Lauren Powell and Dr Anna Weighall. The PhD started in September 2023 and will aim to co-design a resource for teachers working with young people with OCD. The resource will aim to help teachers understand what OCD is, what it can look like in children and young people and how to support this population in the classroom.
If you would like to learn more about any of these projects, please contact Dr Lauren Powell.
Flagship institutes
The University's four flagship institutes bring together our key strengths to tackle global issues, turning interdisciplinary and translational research into real-world solutions.