Supporting a Positive Early Childhood Education (PECE)
Giving extra support in early years settings is just one way to help level the playing field. However, Nursery Managers and Early Years Educators report a lack of support to address emotional wellbeing, highlighting the need for effective and affordable training.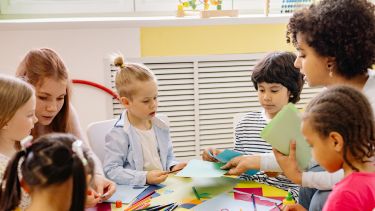 Off
***Can your setting help support educators and young children by being involved***

Do you work for an  early years setting who'd like to be part of this exciting research project? All participating nurseries will have free access to the 4-module PECE online training for their staff. Please register your interest by here or by emailing pece@sheffield.ac.uk and we'll send further information.
The Positive Childhood Early Education (PECE) programme is an evidence-based professional development programme designed to meet this need. PECE starts with a 4-module online learning programme for educators, which:
builds on their existing knowledge, confidence, and skills
helps them learn and consolidate strategies that promote children's development, social competence, and self-regulation. 
improves self-efficacy in implementing, reviewing, and improving the use of these strategies. 
The overall goal is to support Early Years Educators to increase their engagement with children in a positive and supportive way, to help children reach their potential.
Alongside the online professional learning programme, managers / supervisors can become 'PECE Coaches' via 2-days of professional training. PECE Coaches support their teams to apply the online programme's simple, practical, evidence-based strategies, and build their capacity to reflect and solve problems, all of which leads to greater confidence and job satisfaction – and better outcomes. 
PECE is an extension of the Triple P - Positive Parenting Program®, an internationally renowned population-based public health model of parenting support. The Triple P programme (actually a suite of programmes) is already widely used across the UK, including in South and West Yorkshire.
The Nuffield Foundation is funding an evaluation of the PECE programme, led by University of Sheffield in collaboration with the University of Leeds, looking at outcomes for staff and children (2- to 4-year-olds) in nurseries in the Yorkshire region. The main aim of the project is to establish the feasibility and acceptability of PECE in early years settings in the UK in advance of a larger-scale trial, as well as begin to explore how the programme supports the EYFS and OFSTED. Nursery Settings taking part in the trial will receive FREE access to the PECE online programme.
 
More information about the PECE programme can be found here
Further information about the trial can be found here
Funder
Lead applicant:
Dr Anna Weighall University of Sheffield @DrAnnaWeighall
Twitter
Co-applicant
Dr Ian Kellar, University of Leeds @driankellar
Grant awarded
£260,198
Duration
20 months (April 2022- February 2024)
Flagship institutes
The University's four flagship institutes bring together our key strengths to tackle global issues, turning interdisciplinary and translational research into real-world solutions.