Social Media, Television and Children (STAC)
Our study of 0-16 year olds' use of social media and television was a collaboration between the University of Sheffield, BBC Children's and Dubit.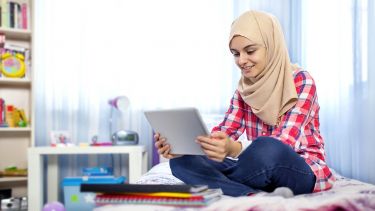 On
An online survey was undertaken of 3,154 families in the UK who had children aged 0–16. Case studies were undertaken of six families. Focus group interviews were held with 110 children aged 5–11 and telephone interviews were held with children and young people aged 12–16.
The reports outline the findings of the study and identify the implications for teachers, parents, the children's media industry and policy makers.
---
This project had a range of outputs aimed at different audiences.
Download the STAC full project report (PDF, 2.3MB)
Recommendations for the media industry
The project led to a range of findings that can inform the children's media industry.
Download the booklet for the media industry (PDF, 1.9MB)
Guidance for teachers and schools
A range of findings and guidance for teachers on using social media and television in the classroom and how pupils can have a healthy online life.
Download the booklet for teachers and schools (PDF, 2.6MB)
Guidance for parents and carers
An overview of the findings and guidance on managing children's screen use.
Download the booklet for parents and carers (PDF, 3.9MB)
Recommendations for policy makers
Policy recommendations and a range of findings can be found in the booklet below.
Download the booklet for policy makers (PDF, 2.1MB)
---
The STAC project was co-produced by a range of partners.
University of Sheffield: Professor Jackie Marsh (Project Lead), Patrizia Baldi, Jamal Lahmar, Bethany Nutbrown, Dr Becky Parry, Emily Scholey, Dr Fiona Scott.
Kristen McKeown, BBC
Andrew Swanson, BBC
Dr Lily Law, Dubit
Peter Robinson, Dubit
Dr Dylan Yamada-Rice, Dubit
A global reputation
Sheffield is a research university with a global reputation for excellence. We're a member of the Russell Group: one of the 24 leading UK universities for research and teaching.