There are number of ways for you to fund your PhD in engineering at the University of Sheffield.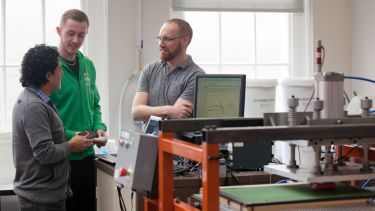 Off
Funding will usually cover your tuition fees and provide you with a 'stipend' to cover your living expenses. Please note that that some funding will only be available to students from the UK or another country in the European Union.
Many of the projects advertised on departments' websites will come with funding – for example, from a research council, or any Centre for Doctoral Training they are part of.
If you are not eligible for a funded project, or you are applying for a project that does not come with funding, there may be other sources of funding listed on the department's website or on the University of Sheffield's pages for postgraduate students – follow the links below.
It is also a good idea to contact the project supervisor, as they may be able to advise you on other sources of funding. 
If you have your own idea for a PhD project, you can contact a potential supervisor by visiting the research section of any engineering department's website.
These pages explain the research areas that each department covers, and the research interests of academic staff who may be able to supervise your PhD project and advise you on funding opportunities in their area. We also accept applications from students who are able to fund themselves.
University of Sheffield scholarships
Scholarships from the University of Sheffield and external sources are available for new PhD students to help cover tuition fees and living expenses.
Academic departments
The University of Sheffield's seven science departments list other funding opportunities on their websites.
These opportunities may be links to fully funded projects, including projects available through Centres for Doctoral Training.
Departments may also provide links to sources of funding outside the University of Sheffield.
Funding opportunities in...
Find a PhD
Search for PhD opportunities at Sheffield and be part of our world-leading research.