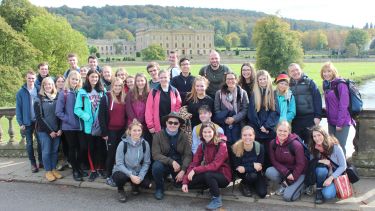 12 October 2019 proved a lucky day. The weather was glorious for students and staff in Germanic Studies to go on their traditional walk in the Peak District.
This is not an ordinary walk; this is a Herbstwanderung during which walking is combined with speaking in German. Dr Caroline Bland and Dr Giles Harrington organised this year's walk, which took the ramblers from Baslow to Bakewell.
About thirty students across all year groups, including four German Erasmus students, joined the walk-cum-chinwag. Yasemin Cigiltepe (DAAD Lektorin), Franziska Auer (ÖAD Lektorin) and the DAAD language assistant Mariella Bachmann were also among the walkers. The Herbstwanderung is an example of one of our many Germanic Studies joint students and staff events. 
On the day the sun highlighted the colourful autumn leaves in Chatsworth Park and around it. The hike ended with a well deserved tea and coffee break and a Bakewell pudding in the village of Bakewell. 
Our Wandertage take place each semester and are a great opportunity to practise German outside of the classroom. We are lucky to be so close to the beautiful countryside of the Peak District National Park.