Student podcast: Lessons from Life Abroad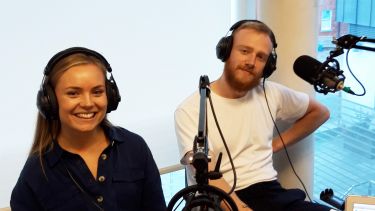 Options are explained, requirements clarified, pros and cons discussed. Still, choosing where to go on a year abroad remains a hard call. Because where do you go when 'the world is your oyster'? And how do you choose between university study, a teaching assistantship, or a work/voluntary placement? And what if you find the whole prospect of going abroad rather daunting?
SLC finalist Claudia Southwell (BA German and Spanish) hopes to offer a helping hand. In Lessons from Life Abroad Southwell invites returning Sheffield students to reflect on their year abroad experience. The podcast promises to discuss 'what it is really like to be a British languages student abroad'. There'll be new interviews with two different fourth year students each week.
Moving to a new country is a huge challenge and I hope that listening to open and honest discussion will help students who may currently be on their year abroad [and those preparing to go next year]  know that ups and downs are part and parcel of a year abroad. Claudia Southwell
The new podcast aims 'to bridge the gap between the practical advice on offer from universities and the support of family and friends at home', according to Southwell.
All editions of Claudia's show are available on mixcloud and you can follow her on Instagram: @lessonsfromlifeabroad
A world-class university – a unique student experience
Sheffield is a research university with a global reputation for excellence. We're a member of the Russell Group: one of the 24 leading UK universities for research and teaching.