WP3 fellows at Aquaconsoil 2019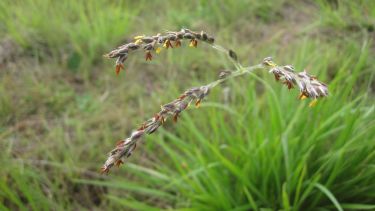 Aquaconsoil "Sustainable Use and Management of Soil, Sediment and Water" 15th International Conference took place in Atwerpen-Belgium from 20-24 May 2019. 
Being one of the most important conferences in environmental sciences, this year the conference covered seven topics:
Soil and water in the digital world
Advances in assessment of risk and monitoring of soil, sediment and water quality
Diffuse and emerging contaminants in the soil-sediment-water system
Advances in remediation technologies
Strategies and management of contaminated land including legal, social and economic aspects
Land stewardship.
Land, soil, water and sediment in the circular economy
Rosa presentation was entitled "Biochar properties influence heavy metal immobilisation on polluted soils and plant growth" as part of topic 4 under the category of physical, thermal and stabilisation techniques. She exposed the most up to date findings in biochar feedstock and application rate effects on plant growth response in heavy metal polluted soils. 
Some interesting questions about the implications of biochar application rate estimation, cost/effectiveness and long term stability of biochar in soils were discussed afterwards.
Additionally as the conference allowed matchmaking sessions she was contacted by a research group from Sweden who are working in a very similar topic. During the session, some ideas for synergies and possible collaborations were discussed.
Similarly Bastian presented about "Biosensors for measuring the bioavailability of heavy metals in the remediation of biochar-amended soil" as part of topic 2. Because the use of biosensors as monitoring tools for the assessment of polluted soils is on its very early stage his presentation captive the interest of many people from the audience.
Excitement about a nearby future where biosensors can be generalised as part of routine monitoring practices was the mood of the discussion.
The conference also offered a wide variety of pre-courses, from which our fellows attended two:
Environmental forensics techniques: an added value to better understand soil and groundwater contaminations
Phytoremdiation
Due to the high concurrency and wide scope of the conference, nine sessions were conducted simultaneously during the four days of conference. More than 20 sponsors and presented the last advances in monitoring devices, technologies, services and innovative products.
With a series of interactive presentations local stakeholders representing the Flemish Government took the audience through a tour of the evolution of environmental regulations and management practices for soil, water and sediments.
Attending big conferences can be challenging as an early stage researcher, however the experience of our fellows was a complete success. They expanded their network and got the most recent view of remediation practices and methods in soil and water for different type of pollutants.
If you want to have a look at the Conference website Aquaconsoil 2019 please follow the link: