Classes, lectures and exams is not what student life is all about. Fun is always a big part of it. If you feel like going out you have plenty of things to choose from, since Thessaloniki can please every taste.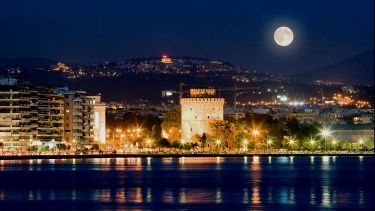 Fancy a cup of coffee?
You can't study in Thessaloniki without having a cup of coffee in your routine. There are cafes all over the city but a few great spots to have a coffee at are the main square of the city, the Aristotelous Square, the seafront and the historic site of the old walls of the city.
Try a 'frappe', a cold coffee made in cafes in Greece, or even a traditional 'Greek' coffee, with its unique aromatic flavour and enjoy the view!
Exquisite cuisine
Greece, and Thessaloniki in particular, is famous for its cuisine. You can begin your day with a breakfast of bougatsa, phyllo dough filled with cream or cheese, or with a simple 'Thessaloniki koulouri', a small sesame seed-covered ring bread, which is the perfect breakfast on-the-go.
The city has hundreds of restaurants, taverns and ouzeries ready to please every taste and budget. As any Greek would tell you, the restaurants and taverns of Thessaloniki perhaps are the finest of all Greece and offer cuisine of a distinctly Thessalonian character, combining the spices of east and Mediterranean flavours.
You can enjoy fresh fish and sea food as well as famous greek dishes and international cuisine. Also, there are also a ton of great spots to get a 'gyro' (pork meat slices in a round pita bread with potatoes, tomato, onions, and tzatziki, a cucumber-yogurt-garlic sauce) or a 'souvlaki'. These famous Greek sandwiches are fast, cheap (only a few euros), and possibly students' favourite meal.
As far as sweets and pastries are concerned Thessaloniki is known for having some of the best in the country: Tsoureki, a plaited sweetened bread, deserts such as Baklava, Galaktoboureko; and Bougatsa are the city's most famous pastry and definitely worth trying.
Thessaloniki by night
Thessaloniki also has a great nightlife. There are many universities in city making most of the bars fun and crowded spots. Bars on the main street by the seaside have crowds pouring out of their doors every night.
Ladadika is an entire area of popular bars and clubs where students can party until the early hours of the morning. Bars and clubs are usually open till around 7 a.m, so make sure you're ready for a long night out!
A world top-100 university
We're a world top-100 university renowned for the excellence, impact and distinctiveness of our research-led learning and teaching.