Erasmus+ Ghana Sheffield Mobility Programme
The University of Sheffield has an Erasmus+ International Credit Mobility agreement in place with The University of Ghana. This agreement facilitates funded exchanges between the two institutions for a select group of PhD students and staff.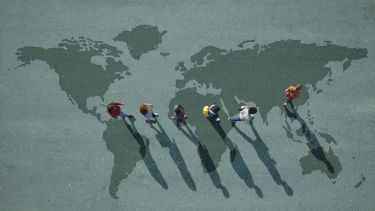 Who is eligible?
The programme is open to staff and PhD students at the University of Sheffield and the University of Ghana. All applications will be considered subject to availability of funding and to their relevance to the proposed programme of activities. Applications will be reviewed by the Erasmus+ Ghana Sheffield Mobility Programme Steering Committee.
How to apply
Applications have now closed. The deadline was 1 May 2022.
 
---
Overview of the programme
ICM projects aim to help participants acquire key skills, support their professional development and deepen their understanding of other cultures;
The programme is open to staff who are officially employed by the University of Sheffield or the University of Ghana;
The minimum duration of the teaching or training period must be five working days;
The Erasmus+ project supports mobilities around the themes of research management and global health challenges across a number of academic disciplines broadly listed below. Priority will be given to mobilities that address the core themes of the project. N.B. Mobilities that fall outside of the areas listed in the application will also be considered;
Priority will be given to applicants who have a pre-existing relationship with a collaborator at the partner university.
Types of mobilities
An Erasmus+ teaching mobility involves delivering a short period of teaching at the partner university. Staff teaching as part of their mobility must complete a minimum of eight hours' teaching per week. You can engage in activities such as: lectures, seminars, workshops (leading) and mentoring activities with students;
An Erasmus+ staff training mobility involves spending a short period training at the partner university. Both academic and professional services staff are eligible to undertake a training event or undergo job shadowing, observation or training.  The main purpose of a training visit is to share knowledge and experience as well as learn good practice from the host university. This can include: job shadowing, observation, attending workshops or courses, transferring knowledge and good practice, learning from shared experience, acquiring practical skills or discovering new ideas for teaching or learning. Conferences are not included;
An Erasmus+ teaching and training mobility combine the above two activities.Staff must complete a minimum of four hours' teaching per week;
An Erasmus+ PhD mobility involves spending a minimum of 3 months at the partner university with a dedicated supervisor.
---
Grants are a flat rate grant calculated in accordance with the Erasmus+ programme and that grants are only a contribution towards the cost of the planned Erasmus+ mobility period. The average grant rate for a 5 day, including 2 days travel either side, is £1,884 (subject to exchange rates).
N.B. All mobilities must comply with the rules and regulations of the Erasmus+ ICM programme
Contact us
For more information on the programme contact the International Partnerships Team on internationalpartnerships@sheffield.ac.uk
A world top-100 university
We're a world top-100 university renowned for the excellence, impact and distinctiveness of our research-led learning and teaching.