I believe this course will equip me with the necessary skills for career advancement

Bowie Wai Yiu Fung
Postgraduate student
MA Librarianship
2023
Bowie chose the Information School because of its excellent reputation, and found the relevant course content and passionate teaching staff helpful in her development.
Excellent opportunities for progression
I chose to study at the Information School because of its excellent reputation in the field, the expertise of its teachers, and the abundance of valuable resources available to students. The inclusive and diverse community also appealed to me.
I chose this course because it aligns with my career goals and offers excellent opportunities for progression in the field. The relevant content, expert faculty, and hands-on learning attracted me, and I believe it will equip me with the necessary skills for career advancement. Additionally, the networking opportunities and my passion make it an ideal choice for my future.
I appreciated the wide range of topics covered in the course, from the principle of information management to different kinds of special libraries. It allowed us to gain a comprehensive understanding of the field.
Shaping my understanding and growth in the profession
The teaching staff are passionate about the subject matter and are experts in their respective fields. Their guidance and support have been valuable in shaping my understanding and growth in the profession.
Being a student ambassador opened up networking opportunities with university staff, faculty, and other ambassadors. Also, engaging in activities helps me develop and strengthen my speaking and communication skills, which are beneficial in both my personal and professional life.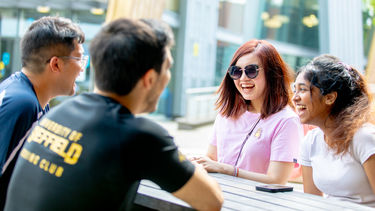 International Merit Scholarships
We offer a generous package of financial support for international students including 75 undergraduate scholarships worth £10,000 towards the annual tuition fee and 125 postgraduate taught scholarships worth £5,000 towards the tuition fee. Applications are now open for existing offer holders.