Librarianship student Martha is from the Isle of Wight in the UK and is a member of the University Poetry Society. Her hobbies include writing and performing poetry, reading books, knitting and going to the cinema.
I'm originally from the Isle of Wight in the south of England. I studied English and American literature, creative writing and journalism for four years at the University of Kent in Canterbury. During my time there, I was involved in the LGBT+ society and starting entering (and winning) some poetry competitions with the creative writing society. I was a barista for a summer before moving to Sheffield to start my librarianship course. After graduation, I would like to look for a job involving archiving or museum work, and later maybe pursue doctoral study back to my undergraduate subject of literature. And adopt a cat.
I like writing and performing poetry, reading books, drinking coffee, playing games, knitting, going to the cinema and during lockdown I went a bit manic and bought a skateboard but haven't tried it out yet.
My pronouns are she/they.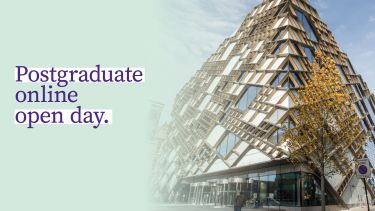 Postgraduate online open day
Book your place at our online open day on Wednesday 26 April to find out more about postgraduate taught study at the University of Sheffield.