Global Journalism Film Festival 2019
The Global Journalism Film Festival gives students an opportunity to view and discuss recent films which highlight the importance of journalism and the pressures and tough decisions faced by journalists.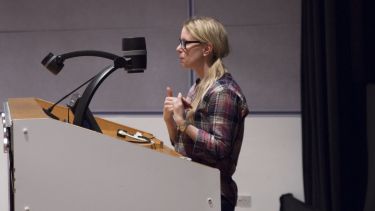 Off
The 2019 festival took place in the Students' Union Auditorium on Wednesday 5 June.
---
10am
The Post
Steven Spielberg | 2017 | USA | 116mins
Set in 1971, The Post depicts the true story of attempts by journalists at The Washington Post to publish the 'Pentagon Papers', classified documents regarding the US government's 30-year involvement in the Vietnam war. Starring Meryl Streep and Tom Hanks, the film received two Oscar nominations including Best Picture.
---
12:30pm
Shock and Awe
Rob Reiner | 2017 | USA | 90mins
Starring Woody Harrelson, Jessica Biel, Milla Jovovich and Tommy Lee Jones, Shock and Awe follows a group of journalists who investigate the reasons behind the Bush administration's 2003 invasion of Iraq. Based on the true story of award-winning reporters Warren Strobel and Jonathan Landay.
---
2:45pm
Spotlight
Tom McCarthy | 2015 | USA | 129mins
A film about the power of investigative journalism, Spotlight was nominated for six Oscars and won two, including Best Picture, for its powerful retelling of the Boston Globe newspaper's exposure of sexual abuse by Catholic priests. Starring Michael Keaton and Rachel McAdams.
---
Events at the University
Browse upcoming public lectures, exhibitions, family events, concerts, shows and festivals across the University.