Our programme of masterclasses offers students weekly insights from influential journalists, campaigners and others with a unique and valuable perspective on the media.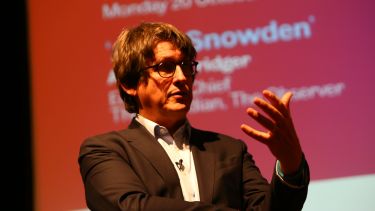 Our journalism masterclasses represent a place where the academy welcomes key players from the media industries, and students who engage in journalism practice and study learn at first-hand about their preoccupations, concerns and experiences. Those who report, present, manage, regulate or simply reflect on the rapidly changing media world give an insight into the industries our students aspire to join.
We regard the masterclasses as an essential element of applied journalism knowledge, and as such they are compulsory for all students taking BA Journalism Studies and MA Journalism. Students on other degree programmes are also very welcome to join.
How to take part
Our masterclasses are scheduled for 12 noon on Tuesdays throughout term time. We'll email you a link to join shortly before each session begins.
We encourage students to engage with the masterclasses using social media. Please use hashtag #jusmasterclass and feel free to tag the department.
Semester 2 programme
See below for the schedule of masterclasses in semester 2. Download the masterclasses brochure to find out more about the speakers.
Download the masterclasses brochure
Week 1
Tuesday 08 February

Mark Nicholls

Journalist at the Eastern Daily Press

Week 2
Tuesday 15 February

Christine Talbot

Multi-award winning television
presenter and journalist

Week 3
Tuesday 22 February

Alistair Magowan

BBC Sports News

Week 4
Tuesday 01 March

Jill Foster

Freelance Journalist

Week 5
Tuesday 08 March

Adeel Shah

International Press and Media Office

Week 6
Tuesday 15 March

Gemma Aldridge

Editor of the Sunday Mirror
and the Sunday People

Week 7
Tuesday 22 March

Minreet Kaur

Journalist and Reporter

Week 8
Tuesday 29 March

Miriam Walker-Khan

Sports reporter and writer

Week 9
Tuesday 26 April

Jess Davis

Digital writer at Hearst Magazines

Week 10
Tuesday 03 May

Tanya Arnold

BBC Sports Reporter and Presenter

Week 11
Tuesday 10 May

James Vincent

BBC Yorkshire's Political Editor
Events at the University
Browse upcoming public lectures, exhibitions, family events, concerts, shows and festivals across the University.