Our programme of masterclasses offers students regular insights from influential journalists, campaigners and others with a unique and valuable perspective on the media.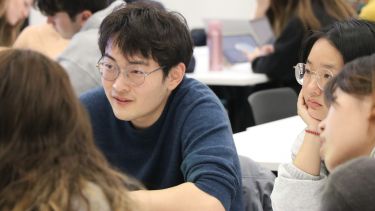 Off
Our journalism masterclasses represent a place where the academy welcomes key players from the media industries, and students who engage in journalism practice and study learn at first-hand about their preoccupations, concerns and experiences. Those who report, present, manage, regulate or simply reflect on the rapidly changing media world give an insight into the industries our students aspire to join.
We regard the masterclasses as an essential element of applied journalism knowledge, and as such they are compulsory for all students taking BA Journalism Studies and MA Journalism. Students on other degree programmes are also very welcome to join.
How to take part
Our masterclasses are scheduled for 12 noon on Tuesdays throughout term time. We'll email you a link to join shortly before each session begins.To access the sessions on Blackboard, simply log in, then head to Organisations, then Masterclasses & Research Seminars then click into the individual session.
We encourage students to engage with the masterclasses using social media. Please use hashtag #jusmasterclass and feel free to tag the department.
Semester 1 programme
See below for the schedule of masterclasses in semester 1, as well as some more information about the speakers.
Tuesday 26 September

Basia Cummins (Tortoise)

Basia Cummings is an editor and partner at Tortoise, an audio-first newsroom based in London. She is the host of the weekly investigative show, the Slow Newscast, executive editor of numerous investigative podcast series including Sweet Bobby, Hoaxed, Into the Dirt, Hidden Homicides (shortlisted for the 2022 Orwell Prize), and reporter of Pig Iron and Left to Die, which won the 2021 Foreign Press Award for best podcast. Before joining Tortoise, Basia worked on the foreign desk at the Guardian and was news editor of HuffPost UK.

Tuesday 10 October

Cathy Reay (freelance journalist)

Cathy Reay is a disabled freelance journalist and writer. Her work covers disability politics, pop culture, entertainment and parenting all through a disability lens. She writes regularly for The Guardian and has garnered an online presence on both instagram and twitter. 

In 2023 she authored chapters in three books, Eliza Hull's We've Got This: Essays by Disabled Parents, Gina Martin's No Offence, But... : How to have Difficult Conversations for Meaningful Change and Natalie & Naomi Evans Everyday Action, Everyday Change: Stay Positive in the fight against Racism and Prejudice.

She is currently writing her first book. 

Tuesday 17 October

Eileen Gbagbo (Bloomberg)

Eileen is a TV Associate Producer at Bloomberg. See Eileen's LinkedIn. 

Tuesday 24 October

Jon Birchall (LadBible)

Jon is a digital media director with over a decade of experience leading editorial strategy across a number of national and global brands. He joined LADbible Group in April 2022 and is responsible for the company's network of Web brands. Jon previously led Reach PLC's digital strategy across Sport, overseeing audience and content for publications such as the Mirror, the Express and the Manchester Evening News. He has also worked for Manchester United and Goal.

Tuesday 21 November

Lucy Ashton (Politics - BBC Radio Sheffield)

Lucy Ashton has been a journalist for 30 years, specialising in politics at both local and national government level. An award winning journalist, she has spoken about journalism at the House of Commons and with IPSO. She is currently the BBC's senior political reporter for South Yorkshire, providing stories for radio, TV and online.

Tuesday 5 December 

Louise Tickle (freelance journalist)

Award-winning journalist Louise Tickle specialises in reporting on domestic abuse, family courts and child protection.

In 2022, her Tortoise investigation Hidden Homicides was nominated for the Orwell Prize for Exposing Britain's Social Evils. She was previously shortlisted for her work on the BBC ONE film Behind Closed Doors and her Guardian reporting on domestic abuse.

In 2016 she was also shortlisted for the Orwell Prize for Journalism, and was joint winner of the Bar Council's Legal Reporting Award. She has won a number of CIPR Awards for outstanding education journalism, and has twice been winner of the Rosemary Goodchild Award for Sexual Health Journalism.

Louise is a committee member of The Transparency Project which aims to promote greater understanding of family law.
Events at the University
Browse upcoming public lectures, exhibitions, family events, concerts, shows and festivals across the University.