The Department of Journalism Studies is proud to be part of the University's Green Impact effort. Read on to discover what we're doing and how you can make a difference too.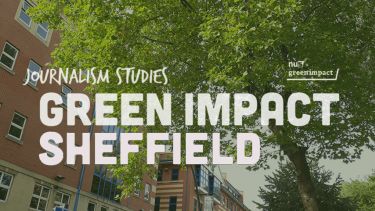 Green Impact is a United Nations award-winning programme used by universities internationally, aiming to encourage sustainable and environmentally friendly practices. The University of Sheffield has been participating in Green Impact since 2009!
Green Impact teams are formed within departments and we are required to complete a series of essential actions to encourage sustainability. We also complete one or two big projects which we are rated on and at the end we get an award depending on how much we have achieved.
This year the Department of Journalism Studies' big project for Green Impact will be an at-home Single-Use Plastic Audit. We will be asking people to tally over two days how much plastic gets binned and they will complete some questionnaires on their attitudes towards single-use plastics. We want to know if how much plastic people think they use lines up with the reality of what they actually use.
We're hoping that this audit will raise awareness of how much plastic people throw away and encourage people to reduce this quantity. After the audit we'll be sharing some resources on great alternatives to the single-use plastics many people feel they are reliant on.
Reduce waste
There are lots of little things you can change to reduce how much waste you are producing. For example, Terracycle recommends you consider switching from disposable paper towels to reusable cloth. You can even fashion them from any old clothes you no longer want – no need to buy anything new. Stopping yourself buying plastic bottles and instead carrying round a reusable bottle is another way to reduce your waste. You can find more tips on waste reduction here.
Change energy supplier
CREDS suggests that one of the top things you can do for the planet is make sure the energy you are using is renewable. There are a few different energy suppliers out there who supply purely renewable energy and it's not as expensive as you might think. There's a comparison website available that makes the process much easier, found here.
Eat less meat
Animal agriculture is a big contributor to climate change, as supported by recent research from the University of Oxford. Therefore, reducing the amount of meat in your diet can lessen demand and have a positive impact on the environment. There are lots of great recipe websites and as going veggie and vegan becomes more popular there are lots of new companies providing tasty alternatives to meat in sustainable ways. Taking part in Meat-Free Mondays is a great way to get involved.