Our newsrooms, seminar rooms, Broadcast Zone, staff offices and student common room can all be found at the department's home in 9 Mappin Street.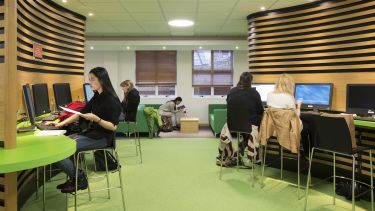 The University of Sheffield recently invested £3million in a stunning refurbishment of the building at 9 Mappin Street, providing an excellent new home for the Department of Journalism Studies.
Our students and staff have three storeys of state-of-the-art broadcast studios, multimedia newsrooms, breakout spaces, bright new offices, and a fabulous common room.
It's the perfect setting for our students to gather experience of a real working news environment.
The production suite comprises a multi-camera HD TV studio and gallery, voiceover booths and radio studio. This makes industry-standard multimedia digital production easy, with the capacity to live-stream anywhere in the world. The suite is adaptable to future generations of digital technology.
Our revamped newsroom spaces are designed for both large and small group work. Students can work on their own, in workshop groups and on team projects.
And on the ground floor, the 180-square-metre student common room offers soft lighting and sofas, computers and wi-fi, tea and coffee. It's a great place to meet, chat, unwind and catch up.
A world-class university – a unique student experience
Sheffield is a research university with a global reputation for excellence. We're a member of the Russell Group: one of the 24 leading UK universities for research and teaching.