Happy birthday to Journalism Studies from Alan Rusbridger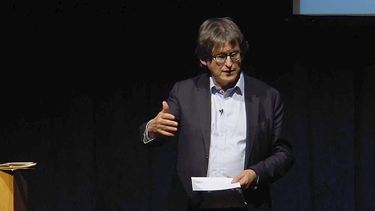 Hundreds of Sheffield students and staff attended a spellbinding guest lecture by Guardian editor Alan Rusbridger this week to celebrate the Department of Journalism Studies' 20th anniversary.
As part of the department's #jus20 programme – marking two decades of excellent teaching and research since its inception in 1994 – Rusbridger spoke for an hour at the University's Octagon Centre on Monday evening to a full house of around 600.
Offering congratulations on the 20-year milestone, he also credited the department both for producing Guardian journalists and for plotting a course through recent seismic changes in the profession.
The University of Sheffield, said Rusbridger, has "helped journalists see their route map through what is by any accounts the most extraordinary revolution in communication, and… we've had a lot to thank Sheffield for in terms of the people you've sent us. So happy birthday."
Snowden revelations
Pleasantries concluded, Rusbridger spoke on the theme 'After Snowden' – revealing the extraordinary events behind his newspaper's Pulitzer-winning exposé of mass state surveillance by GCHQ in Britain and the National Security Agency in the USA. He drew compelling parallels between the efforts of the British state to suppress the Snowden revelations and the struggle to report freely on the 1819 Peterloo massacre – which led to the foundation of the Guardian.
Rusbridger vividly recalled the infamous but entirely symbolic visit to the Guardian in 2013 by government agents, when computers were destroyed, but to no effect. "We would simply report out of New York," he explained – but the message being sent was clear.
"The sight of GCHQ agents in the basement of the Guardian that day in the summer of last year, supervising the destruction of the Guardian's computers, in this completely pointless destruction… sent a terrible picture of Britain – about to celebrate the Magna Carta next year – about Britain's view of a free press."
---
Catarina Beija (@catarinabeija)

October 20, 2014
---
Public service
Rounding off his talk, Rusbridger reflected on his paper's Pulitzer award and the function of journalism to serve society and democracy.
He said: "We got the Pulitzer prize this year for public service, and I've always thought of journalism as a public service. Those of you who are training to be journalists, you're training to do a public service. I think of it as a public service like a fire service or a police service or a water utility. Societies need unpolluted, verifiable information in order to function."
The lecture proved a huge hit with students as well as staff, with many taking part in the event's live Twitter coverage.
The Department of Journalism Studies now looks ahead to other 20th anniversary events, including co-hosting the conference of the National Council for the Training of Journalists in November.
---
Events at the University
Browse upcoming public lectures, exhibitions, family events, concerts, shows and festivals across the University.