Media industry honours Sheffield journalists, degree, and ex-staff member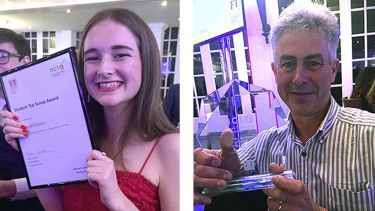 This time not only for students and alumni but also for a degree course and a former member of staff honoured for his 'lifetime contribution' to the teaching of journalism.
The National Council for the Training of Journalists (NCTJ) announced its Awards for Excellence last week at a ceremony at Hampton Court Palace. Anna Whittaker, in the final year of her BA Journalism Studies degree, won the prize for top scoop by a student journalist – for a remarkable story on a research finding that primary school children learn more effectively when wearing slippers rather than shoes.
But there was also recognition for the University of Sheffield's MA Journalism degree – named the top-performing postgraduate course in the UK – and for David Holmes, who was given the NCTJ Chairman's Award for his 14 years of outstanding teaching at the Department of Journalism Studies.
Good journalism
David said: "It's a great honour to receive this award from the NCTJ. They're people who care passionately about journalism.
"Good journalism needs rigorous intellectual inquiry, an open mind and a spirit of insatiable curiosity. I have been privileged to teach journalism for so long in a university that cherishes these qualities and that promotes them so energetically.
---
I'm proud to have taught in a department that champions free reporting around the world – without this, democracy simply cannot function

David Holmes

Department of Journalism Studies
---
"I'm proud, too, to have taught in a department that champions free reporting around the world – without this, democracy simply cannot function."
David made his name as a journalist with the BBC before joining the University of Sheffield in 2003 and became one of the department's most popular and charismatic tutors before his retirement earlier this year.
NCTJ chair Kim Fletcher said: "David's legacy is the deserved reputation for his university's journalism department, skilled and talented working journalists for the industry and a robust and rigorous accreditation scheme for the NCTJ."
Further honours
Other Sheffield journalism students and alumni honoured at the NCTJ awards were:
Mojo Abidi, commended in the student journalist of the year category
Jessica Davis, highly commended in the student features award
Laura Drysdale, trainee journalist of the year winner
Faith Ridler, commended in the student multimedia story/campaign of the year category
Matthew Smith, commended in the trainee sports journalist category
Tim Stickings, commended in the student journalist of the year category
Earlier in the day another Sheffield graduate figured prominently as the NCTJ's conference heard from Harrison Jones, now a Guardian journalist, at a panel discussion on media coverage of terrorism.
And just a few days later another recent Sheffield journalism graduate triumphed – in the annual awards given by the Broadcast Journalism Training Council to celebrate the work of the UK's best new journalists.
Jack Gevertz, who recently completed his MA in Broadcast Journalism, won the best TV news feature award for his investigative piece on homophobia in professional football.
---
---
Pride and delight
The latest prizes for Sheffield journalists follow another clutch of honours earlier in the year at the 2017 Magazine Academy awards and the department being named Britain's double number 1 for journalism by The Guardian and The Times.
Professor Marie Kinsey, joint head of the Department of Journalism Studies, said: "We're so proud of all our prize-winning students and alumni, and we're delighted to see our former colleague David honoured by the industry he served with such distinction.
"This latest batch of awards is testament to the hard work and talent of our students. All of us at the department will follow their future careers with great interest. We're not surprised when they win prizes – but we are absolutely delighted.
A world-class university – a unique student experience
Sheffield is a research university with a global reputation for excellence. We're a member of the Russell Group: one of the 24 leading UK universities for research and teaching.