News in brief, spring 2016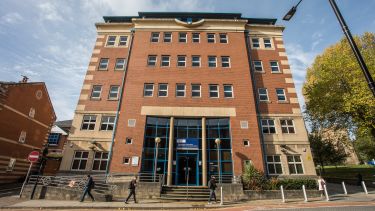 Sheffield student lands stunning Hollywood exclusive
A second-year Sheffield journalism undergraduate has pulled off an amazing scoop by landing an exclusive interview with an A-list Hollywood actor.
While reporting for a live production newsday in the Department of Journalism Studies, Holly Brown spoke to Tom Holland – best known as the new Spider-Man – during his lunch break from filming.
The 19-year-old star of Heart of the Sea and The Impossible is set to star in the new Captain America: Civil War and takes the title role in the new Spider-Man reboot. He talked to Holly, who used her cracking contacts to get the interview, about his Marvel boyhood dreams.
Holly said: "Tom is really busy filming at the moment so I'm very grateful that he found time for the chat. He told me hard work is good work, so I'm going to apply that here!"
See Holly's exclusive interview in full
---
Rave reviews for Holly's fourth book
Another Holly with a Sheffield journalism background is enjoying media success – with the publication of her fourth novel since graduating in 2008.
Holly Bourne's How Hard Can Love Be? hit the bookshops in February, described by reviewers as "a really satisfying page turner" and "searingly honest".
The author studied BA Journalism Studies at Sheffield and writes fiction for a teenage audience while working full time for TheSite.org, an advice website for young people.
More about How Hard Can Love Be?
---
Omar's expert commentary on Middle East
One of the newest researchers in the Department of Journalism Studies has made high-profile academic and media appearances to discuss the role of the media as political upheaval sweeps through the Middle East.
Dr Omar Al-Ghazzi was invited to speak at Central European University in Budapest in January and gave a lecture entitled 'From the Arab Spring to ISIS: On the Mediation of History in Arab Politics'.
His insights were also recently broadcast to viewers of Al Jazeera English, where Omar provided expert commentary in a special edition of The Listening Post (see video) looking at how the media reports from conflict-torn Syria.
Omar joined the department in 2015 as Lecturer in Journalism, Politics and Public Communication. He has worked as a journalist in New York and the Middle East and now researches media, politics and identity in the contemporary Middle East.
---
Taster day offers glimpse of uni life
The Department of Journalism Studies has again opened its doors to school and college students from across the region to give a first-hand glimpse of university life.
In the latest of a series of taster days, run in partnership with the Faculty of Social Sciences outreach team, staff from the department helped year 12 pupils prepare a news article and develop a TV bulletin.
The department is committed to helping people from a wider range of social backgrounds enter journalism, and the taster days target schools in areas where relatively few pupils go on to university.
One pupil commented that they left the event "having a better idea about the university, the course and having just developed some very useful skills".
Facebook photo album from the taster day
---
Conference date for Francesca
A PhD candidate in the Department of Journalism Studies has had a paper accepted for a prestigious conference in Madrid.
Francesca Di Renzo will speak at CEU San Pablo University in April, at a conference entitled Migration and Asylum: New Challenges and Opportunities for Europe.
Francesca joined the department in 2014 to research coverage of migration in Italian and Spanish media.
PhD research with Journalism Studies
---
Sheffield trio chasing radio prizes
Three Sheffield journalism graduates have been nominated in the IRN Awards, which honour the best in commercial radio journalism.
Rachael Venables, Will Chalk and Aileen O'Sullivan – who all studied MA Broadcast Journalism with the Department of Journalism Studies – are in the running for prizes in the 2016 awards.
Winners will be announced on 10 March at a ceremony held at London's Century Club.
A world top-100 university
We're a world top-100 university renowned for the excellence, impact and distinctiveness of our research-led learning and teaching.