Political communication experts gather in Sheffield for the IPPC Conference 2023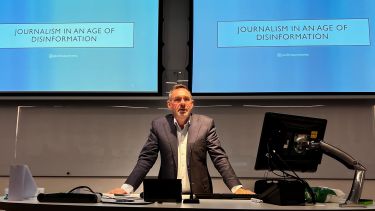 The conference, which is held annually for students and staff across Journalism Studies at the University at large, featured two days of events focused on a core theme of building trust in an age of disinformation.
Proceedings were kicked off with a keynote from the author, journalist, and prolific political commentator, Paul Mason. His powerful talk, entitled 'Journalism in an Age of Disinformation', focused on issues of trust within contemporary politics. 
The two-day event also featured engaging talks about the importance of civil disobedience from Just Stop Oil; the emergence of personal branding in politics from media and communications academic Ruth Garland; workshops on crisis communications and media literacy; and, to close, a special screening of Andrei Loshak's award-winning new documentary Broken Ties (2022), which chronicles the impact of Russia's disinformation and propaganda tactics on families divided by the war in Ukraine. 
Valentina Chelsy Maharani, a current International Public and Political Communication student, found the conference particularly insightful. "I loved the selection of the theme and all the invited speakers," She said.  "What I enjoyed most was the talk from Ruth Garland, as she presented her research on the "branded politician", Rishi Sunak. The workshop from Laura Willeman (Sheffield City Council), was also useful as we had the chance to practice our own crises communication strategy.
"Overall, all the talks, workshops, and film screenings were brilliant as they covered a range of global issues in present times like the Russo-Ukraine war and the Just Stop Oil campaign. Kudos to Jared, Ilya, and all the department staff!"
Jared Ahmad, Course Leader for International Public and Political Communication, also said:  "This annual conference is a really important event, for both staff and students. 
"Trust is central to democratic politics. It is the foundation on which all the institutions of civil society rest and the glue that binds individuals, organisations, and collective identities together - trust, or lack of it, is also one of the biggest issues in politics today.
"We're really pleased to have had so many distinguished speakers here to engage students in a range of debates and workshops around this subject. It's been a great opportunity for them to ask some tough questions to commentators and academics in this field."
Want to learn more about the conference? Check out last year's theme, previous guest speakers:
​​​​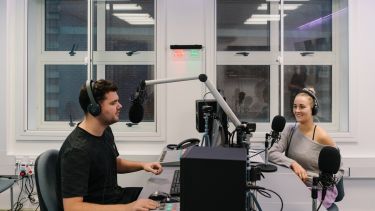 Our outstanding reputation for journalism
The Department of Journalism Studies ranks in the top five of all three of the UK's independent university league tables.
Weekly online events
Attend an online event when it suits you, all year round, as an alternative to an open day.
Every Wednesday, Sheffield Live sessions cover different aspects of University life. You can also meet your department and learn more about studying your subject.