Sheffield researchers team up for study of press regulation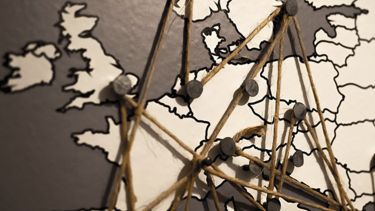 A collaborative research team led from the Department of Journalism Studies has received a major grant to compare press regulation and ethics across ten European nations.
Funded by the UK's Arts and Humanities Research Council (AHRC), the Defining Freedom of the Press project will explore media governance in the ten countries that lead the World Press Freedom rankings.
While the ethics of the British media have been the focus of much previous scrutiny, both public and academic, the new study will break new ground in comparing the practices of the UK's press and its regulators with their international counterparts.
The researchers say their work will have far-reaching social impact – benefiting individual journalists, regulatory bodies, advocacy groups for media freedom and ethics, and groups who have been discriminated against by sections of the press, as well as the wider public good of better journalism.
---
This AHRC-funded project will produce high-impact, evidence-based research that will benefit academic and non-academic partners in the UK and overseas.

Dr John Steel

Principal investigator
---
The project's principal investigator is Dr John Steel, who joined the University of Sheffield in 2005 and researches free speech, censorship, media ethics and other issues surrounding the relationship between journalism and democracy. His publications include Journalism and Free Speech (Routledge, 2011) and Redefining Journalism in the Era of the Mass Press (Routledge, 2016).
High impact
John's team will include non-academic and academic partners comprising researchers from the University of Leeds as well as his Sheffield colleague Professor Martin Conboy - another member of the Department of Journalism Studies' research community.
John said: "Our interdisciplinary project seeks to address long-standing issues around journalism ethics and regulation and their consequences for those working in journalism as well as those who are affected by journalism's practices and products.
"As news workers - traditional and non-traditional - face a range of technological, legal and economic challenges, I am delighted to be leading this AHRC-funded project which will produce high-impact, evidence-based research that will benefit academic and non-academic partners in the UK and overseas."
Communication, Media and Journalism research at the University of Sheffield
Clearer picture
When it begins in June 2018 the Defining Freedom of the Press project will look at how the work of press councils in the ten countries intersects with the law and impacts directly on the work of media professionals – giving a clearer picture of how regulation works in practice rather than theory.
The project's findings of best practice can be used to inform the workings of press regulation in the UK, setting more comprehensive standards for the media to support news publishers in achieving a new status and profile.
The team says this, in turn, will allow publishers both to pursue the classical liberal rationale for journalism as 'watchdog' or 'fourth estate' and to challenge the hegemony of the corporate press.
Project title
Defining Freedom of the Press: A Cross National Examination of Press Ethics and Regulation in Ten European Countries
Project team
Sheffield
Dr John Steel (principal investigator)
Professor Martin Conboy
Leeds
Dr Julie Firmstone
Dr Jairo Lugo-Ocando
Dr Paul Wragg
Dr Joe Saunders
Dr Carl Fox
Countries included
Austria
Belgium
Denmark
Finland
Ireland
Netherlands
Norway
Slovakia
Sweden
Switzerland
UK
Project reference code
AH/R00644X/1
Flagship institutes
The University's four flagship institutes bring together our key strengths to tackle global issues, turning interdisciplinary and translational research into real-world solutions.