Sheffield staff examine propaganda and tabloid history in new books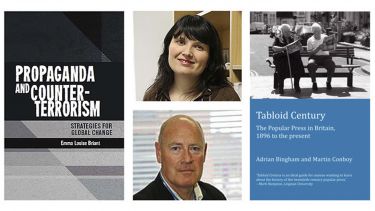 In researching Propaganda and Counter-Terrorism: Strategies for Global Change, Dr Emma Briant has interviewed high-ranking government and military figures in Britain and the United States. The result is a remarkable volume tracking a shift in post-9/11 official communication strategies in a globalised, digital media environment.
Emma's position is that accountable government, and systems and policies that both respect citizens and build constructive foreign relations, can only be achieved when government strategy is continuously re-examined publicly and independently.
The book has been described by Prof Robert McChesney of the University of Illinois as "a superb analysis of the propaganda provided by the governments of the United States and United Kingdom in present times".
Fresh insights
Prof McChesney, an acclaimed researcher in media criticism and mass communication, continued: "It is thoroughly researched and contextualised, and offers fresh insights into the great risks these practices hold for democracy. This sophisticated book should be mandatory reading for anyone with an interest in the subject."
Tabloid Century: The Popular Press in Britain, 1896 to the Present is co-authored by the department's Professor of Journalism History, Martin Conboy, with another University of Sheffield academic – Dr Adrian Bingham of the Department of History.
Published by Peter Lang Oxford, the book analyses the rise of the tabloids, their approach to reporting major historical events, and other elements of the tabloid form, such as pin-ups and advice columns. Ultimately Tabloid Century examines how, in constituting a forum for the discussion of social identities such as class, gender, sexuality and ethnicity, the tabloids played a significant role in defining 20th-century Britain.
Ideal guide
Mark Hampton of Lingnan University, a leading researcher of media history, said: "Authoritative and accessible, Tabloid Century is an ideal guide for anyone wanting to learn about the history of the 20th-century popular press."
The publications follow quickly on from a new book by Dr Jairo Lugo-Ocando, Blaming the Victim: How Global Journalism Fails Those in Poverty, which critically examines media coverage of deprivation.
Jairo's book has already been praised by former UK Prime Minister Gordon Brown, who said it "reveals clearly and concisely how, for the last three decades, the news media of the world has constructed pedestals for the super-rich".
Flagship institutes
The University's four flagship institutes bring together our key strengths to tackle global issues, turning interdisciplinary and translational research into real-world solutions.