Student news team's Xmas foodbank plea gathers 1,000 items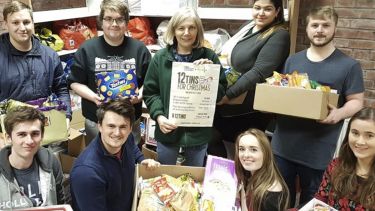 As part of a final-year module on their BA Journalism Studies degree, the groups were encouraged to think about how journalism can connect with communities. The team behind the North Current news website decided to try and gather two trolleys of food donations for Burngreave Foodbank, which supports deprived families in an inner-city district of Sheffield.
But they smashed their target and managed to collect almost 1,000 items in just two weeks – 700 of which came from Byron Wood Academy in Burngreave.
Satadru Ashton, headteacher of Byron Wood Academy, said: "As a school, we are very proud of our children and what they have achieved.
"We work in the most deprived area of Sheffield and yet our children and families are so caring and giving. They want to support others who are not as fortunate as themselves."
The school's year 6 pupils raised the most for the campaign. Rahima, who brought in food on each day of the campaign, said: "I think it was a better idea to bring in food instead of money because children will actually have the food and they will be grateful."
Burngreave Foodbank gave out 1,530 packages last year, allowing over 3,000 people to eat.
Overwhelming
Rachel Snow, head of the foodbank, said: "Every donation means that it is that much longer we can keep the foodbank going. It's been overwhelming how generous people have been."
Student Euan Antona said: "I never imagined that so many people would get behind our campaign. When we first did an article about Burngreave Foodbank, it was clear that people were struggling and that if people just gave a little bit to help, it would make such a difference.
---
Journalism is more than just reporting the facts – it can work with the audience it serves to actively make a difference and improve lives

Euan Antona

North Current 
---
"I want to thank each and every person who has made a contribution – the items you have donated will help people who may be facing a very difficult Christmas period.
"We are incredibly lucky as journalists to have the platform to help others, and to support the people who have supported us is immensely rewarding.
"Running a campaign takes a lot of time and dedication. However, it has really shown that journalism is more than just reporting the facts – it can work with the audience it serves to actively make a difference and improve lives."
The students have been running an active news organisation for the past 12 weeks and have embraced social media to promote their campaign.
Module leader Lisa Bradley said: "It's been wonderful to allow the students to experience first hand the good that journalism can do, and delighted our students have connected with local communities. It's what it is all about."
A world-class university – a unique student experience
Sheffield is a research university with a global reputation for excellence. We're a member of the Russell Group: one of the 24 leading UK universities for research and teaching.